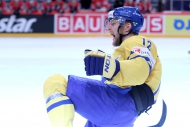 Fredrik Pettersson - Player Of The Month September
Although Lugano lost 3-2 in the shootout to Kloten, Fredrik Pettersson had 8 shots and 1 assist and took some time for us after Friday's game.
With a whopping 53% of all votes, Fredrik Pettersson was voted "Player of the month" in September by the readers and visitors of eurohockey.com.  He earned the nomination with 16 points in 9 games, scoring 11 times. His scoring totals last season with Lugano were 19 points (7 goals/12 assists) in 20 games so he's been off to a great start this season. It also makes him the team's top scorer while he's sharing the League's top spot with fellow countryman Nicklas Danielsson from Rapperswil-Jona. After the 3-2 shoot out loss against the Kloten Flyers on Friday he took some time to answer our questions.

Fredrik, you've been voted Player of the month September by the readers and visitors of eurohockey.com, what does that mean to you?
It's always nice to get that sort of recognition, I had a great start but in the end it's always a team effort and I also rely on them to get there.

Are you satisfied with the start so far?
I'm very happy, scoring that many points but in the end it doesn't count if you can't bring home the wins.

How is it to play with Linus Klasen (Klasen signed with Lugano this season), does it help you that you have a countryman by your side?
Yes it's always great to have someone like Linus on your team. He's an awesome hockey player who brings a lot of skill and talent to the game.

Fredrik, coming back to tonight's game, you put the Flyers under pressure for the first 30 minutes but after that let them come back into the game, what happened there?
We definitely need to win those games, especially when you have the lead and pressure on the opponent in the game. We'll prepare for Saturday's game against the Lions and
then see from there. I'm really happy to be able to play with a team like Lugano, the guys are great and I'm just happy to be here.

Thanks for your time Fredrik and good luck for the rest of the season!


Czech Rep.: Tipsport extraliga | 1.liga | 2.liga

Slovakia: Tipsport Extraliga | 1.liga

Sweden: SHL | HockeyAllsvenskan
Other: EBEL | Belarus | Croatia | Denmark | Estonia | France | Great Britain | Iceland | Italy | Latvia | Lithuania | MOL-liga | Norway | Poland | Romania | Serbia | Slovenia | Spain | NHL | AHL |
League standings
Game fixtures
League leaders
Past, present and future of a growning passion: Eurohockey meets Philippines national team captain Steven Füglister Read more»