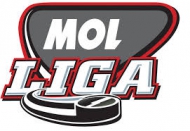 Nové Zámky wins the MOL League
After DAB.Docler winning the MOL League in back to back seasons 2014 brought a new champion as Nové Zámky won the final series 4 games to 2.
Missing the chance to close out the series on home ice the teams traveled back to Romania were Brasov was hoping to force a seventh game and Nové Zámky wanted to win their first MOL League title ever.
Erik Caládi put the visitors up 1-0 at 13:05 of the first period when he took a pass from Martin Uhnák in the right corner, he skated along the goal line past a Brasov defender and in front of the net where he slipped the puck past Patrik Polc from point blank. The score remained the same for the rest of the period, there was only one penalty on which Nové Zámky did not capitalize on.
In the first minute of the second period Marek Uram skated down the middle of the ice, just as he was about to get clocked by two Brasov players in the slot he put the puck out to the right faceoff circle, right in front of the on skating Peter Polcik who nicely placed the puck on the top right corner to make it 2-0 for the Slovak club. Just over nine minutes later with Nové Zámky skating short handed Erik Weissmann made it 3-0, Weissmann skated across in front of the net, faked the pass and shot it on the unsuspecting Polc who probably did not see any of the puck until it was too late. Brasov was able to get one back when Ivan Dornic scored a true "garbage" goal, Dornic skated down the left wing and put a shot on net that Jan Chovan looked to have initially saved. Dornic crashed the net and during the pushing and shoving he somehow poked the puck barely across the goal line to make it 3-1.
In the third period Brasov tried to get back into the game but was unable to, in the end they pulled Polc for the extra attacker but Miroslav Stefanka ended up scoring an empty net go to make it 4-1 and to give the gold medal to Nové Zámky.
Awards:
Goalie of the year: Jan Chovan-Nové Zámky
Defenceman of the year: Kevin Wehrs-Brasov
Forward of the year: Balázs Ladányi-DAB.Docler
Playoffs MVP: Levente Zsók-Brasov
Regular season leading scorer: Balázs Ladányi-DAB.Docler
Playoffs leading scorer: Levente Zsók-Brasov
Coach of the year: Kari Rauhanen
All Star team
Goalie: Patrik Polc-Brasov
Defenseman: Kevin Wehrs-Brasov, Andrej Sucharda-Nové Zámky
Forwards: Balázs Ladányi-DAB.Docler, Tyler Metcalfe-Miskolc, Erik Weissmann, Nové Zámky
Final Standings
1. Nové Zámky
2. Brasov
3. DAB.Docler
4. Miskolc
5. Csíkszereda
6. FTC
7. UTE

Czech Rep.: Tipsport extraliga | 1.liga | 2.liga

Slovakia: Tipsport Extraliga | 1.liga

Sweden: SHL | HockeyAllsvenskan
Other: EBEL | Belarus | Croatia | Denmark | Estonia | France | Great Britain | Iceland | Italy | Latvia | Lithuania | MOL-liga | Norway | Poland | Romania | Serbia | Slovenia | Spain | NHL | AHL |
League standings
Game fixtures
League leaders
Yunost Minsk iconic coach is back on National Team bench Read more»
From Sochi to Beijing, four tournaments ended this week Read more»