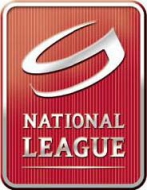 Double win by the French-Swiss teams
Double confrontation French-Swiss teams vs. Italian-Swiss teams smiles to French-teams; Biel puts 6 at Bern arena;
Play-offs
Geneva 2 Lugano 0 (series 1-0)
Geneva succeeded his start of the playoffs. Lugano offered resistance in the initial phase of the game, but Geneva was better and deserved the first win of the series.
After seven minutes, the team from south Ticino played for 38 seconds in double superiority but miss the scoring chances by Brett McLean and Julian Walker. Later in the end of the first period and beginning of second Jacob Micflikier and Fredrik Pettersson miss more two opportunities for the first goal in the game. However after the 29th minute Lugano's defense give to much time and space and Daugivins would score the first of the for Geneve and three minutes later Bezina end's the game.
Good game from the two goalies. 34 saves and shotout for Stephan and 30 saves for Manzato.
Fribourg 4 Ambri 2 (series 1-0)
Thanks to two goals on the power-play, Fribourg win against a rebellious Ambri to kick off the playoff quarterfinals. The team from north Ticino spoiled the game with too many penalty's. But in the end Fribourg victory isn't unfair.
Ambri score the first by Giroux and that was actually the wake up cold for the home team. With one of the best offensive teams in the country allied to many penalties from guest team, you already have the answer on why Fribourg did win this game.
Even if Fribourg is on the paper stronger then Ambri, we can't count north Ticino's team already out from the series. Visiting Valascia stadium is never one easy task. Ambri fans combined with the the players motivation will put one nice fight Thursday night on the Tittle-Challenger.
24 saves for Benjamin Conz. 40 saves for Nolan Schaefer.
Play-outs
Bern 3 Biel 6
With a play-out system slightly different from the last year. Bern and Biel played for... nothing! Bern is already saved(70 points), and Zug is almost saved(66 points). So in the end of this tour with 6 games will be Biel(53 points) against Rapperswill(42 points) in a 7 game series. The loser will play the LNB champion for a place in LNA.
About the game? Bern is already in "vacations", and Guy Boucher toke the game to do some experimentation's in the system. Biel take the game seriously(like Rapperswil in the other play-out game) and was better then the home team. Two goals in the first period and one in the beginning of the second period made the task easier for the visiting team.

Czech Rep.: Tipsport extraliga | 1.liga | 2.liga

Slovakia: Tipsport Extraliga | 1.liga

Sweden: SHL | HockeyAllsvenskan
Other: EBEL | Belarus | Croatia | Denmark | Estonia | France | Great Britain | Iceland | Italy | Latvia | Lithuania | MOL-liga | Norway | Poland | Romania | Serbia | Slovenia | Spain | NHL | AHL |
League standings
Game fixtures
League leaders
As the pandemic continues to ravage ice hockey throughout the world the Scottish Ice Hockey Association decided enough is enough. Read more»
The IIHF Council decided unanimously today to initiate another series of tournament cancellations for the 2020/21 season, following recommendations of the IIHF COVID-19 Expert Group. ... Read more»