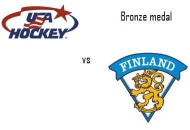 USA - Finland quick facts
Do you know:
Finland will be competing for its fifth men's ice hockey medal at the past six Olympic Games. The Finns won bronze in the 2010, 1998, and 1994 Olympic Winter Games and earned silver in the Torino 2006 Games. It is the only team to have achieved that feat.
The USA will compete for its third medal at the past four Games, having earned silver at the 2010 and 2002 Olympic Winter Games.
Teemu Selanne will stand second all-time in games played at the men's ice hockey tournament with 37, two behind all-time leader and fellow Finn Raimo Helminen
Teemu Selanne, 43, will be playing in his final Olympic match. He hopes to build on his record 41 points, the highest for most career points.
Teemu Selanne can surpass the mark for oldest medal winner in Olympic men's ice hockey, a record currently held by Igor Larionov. Larionov was 41 years and 83 days when he won a bronze with Russia at Salt Lake City 2002. On Saturday 22 February, Selanne will be 43 years and 234 days old.

If Finland wins bronze, Selanne will become just the sixth player to win four medals in the Olympic men's hockey tournament.
Selanne already posted an all-time record in Sochi by becoming the oldest goalscorer in men's Olympic ice hockey. He was 43 years and 231 days when he scored against Russia on Wednesday 19 February.

Mikael Granlund, 21, is Finland's top scorer with three goals and two assists. Sami Vatanen has five assists, while Olli Maatta and Olli Jokinen each have a pair of goals and assists.
The USA defeated Finland 6-1 in the semifinals of the Vancouver 2010 Games. Patrick Kkane scored twice while Zach Parise and Paul Stastny had a goal each as the USA scored all six of their goals in the first period.
The teams' Lake Placid 1980 encounter was the final match in the final group phase, in which Team USA secured its most recent Olympic gold medal in hockey by beating Finland 4-2. The United States had put itself in that position by winning the previous match 4-3 against the Soviet Union, a meeting that became known as 'the Miracle On Ice'.
The USA is coming off a 1-0 loss to Canada in the semifinal. Jonathan Quick had 36 saves in the losing effort.
Kari Lehtonen started for the Finns in their semifinal loss, replacing Tuukka Rask, who was not on the roster due to an undisclosed illness.
Even after being shut out by the Canadians, the USA remains the top scoring team at the tournament, having netted 20 goals in five games. Phil Kessel tied for the tournament lead in points with eight from five goals and three assists
These teams have met 12 times in Olympic men's ice hockey. United States has won seven times, Finland has triumphed three times and there have been two draws.
Finland's most recent victory against the US at the winter Games dates back to the Torino 2006 quarterfinals when Finland prevailed 4-3. Olli Jokinen scored twice in that match.
United States has won 11 medals in Olympic men's ice hockey, second only to Canada's 14. Of those, eight have been silver medals, including the one collected in Vancouver four years ago. United States has won one bronze, at the Garmisch-Partenkirchen 1936 Games
United States includes in its roster 13 players who won a silver medal in Vancouver four years ago.
Coming into the medal matches, Phil Kessel shared the tournament lead for points scored with Erik Karlsson. KESSEL scored five goals and provided three assists for a total of eight points in Team USA's first five matches.
Now that Finland has failed to win the gold medal here, it joins Czechoslovakia and Switzerland as the NOCs with most participations (16) without ever winning a gold medal.
Selanne and Kimmo Timonen can win a record-equalling fourth Olympic medal in men's ice hockey. The record is held by six different players: Vladislav Tretyak, Igor Kravchuk, Jiri Holik, Saku Koivu, Jere Lehtinen and Ville Peltonen.
Quote of the game:
David Backes: (USA) "We have one more chance to win a medal and make this trip worth it."

Czech Rep.: Tipsport extraliga | 1.liga | 2.liga

Slovakia: Tipsport Extraliga | 1.liga

Sweden: SHL | HockeyAllsvenskan
Other: EBEL | Belarus | Croatia | Denmark | Estonia | France | Great Britain | Iceland | Italy | Latvia | Lithuania | MOL-liga | Norway | Poland | Romania | Serbia | Slovenia | Spain | NHL | AHL |
League standings
Game fixtures
League leaders
Grown in Canada, Luis de Almeida Johansson has a mission: to turn Portugal into an hockey country Read more»
Estonia could do something that they've never done ever before: have players drafted into the National Hockey League. Read more»