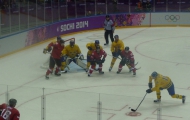 Alfredsson and Lundqvist give Sweden the lead
A lone goal and an outstanding performance by Rangers goalie keep Sweden in a perfect record
Both Sweden and Switzerland has a winning debut in the tournament and battle today for the leadership in the group. It wasn't a good dawn for Sweden: captain Henrik Zetterberg was forced to forfeit due to the worsen of an old injury. Marcus Johansson, scratched in the first game, earns a spot in the line-up in the line with Daniel Alfredsson and Gustav Nyquist, while Niklas Kronwall is the new captain. Swiss coach Sean Simpson aligns goalie Reto Berra as anticipated, and leaves Ryan Gardner and Simon Bodenmann in the stands. This is the first duel after World Championship final in Stockholm last May. Switzerland has an aggressive start and Lundqvist is fantastic on Niederrreiter and Pluss and superb on an as solo of Roman Wick. Sweden suffers a 5 minutes nightmare and has to make a monument for Lundqvist for his save on Luca Cunti. Two minutes called for Dennis Hollenstein for hooking are a salvation to decrease the pressure and to give some work for Berra, with Landeskog, Kronwall and Johansson, the late, the most difficult save. After some minutes of calm, a furious melee in front of Lundqvist results in two more amazing saves by Rangers' goalie and in a power play for Switzerland, well killed by Sweden to close a unexpected first period, where Switzerland outstands Sweden, as proved by 13-5 shots on goal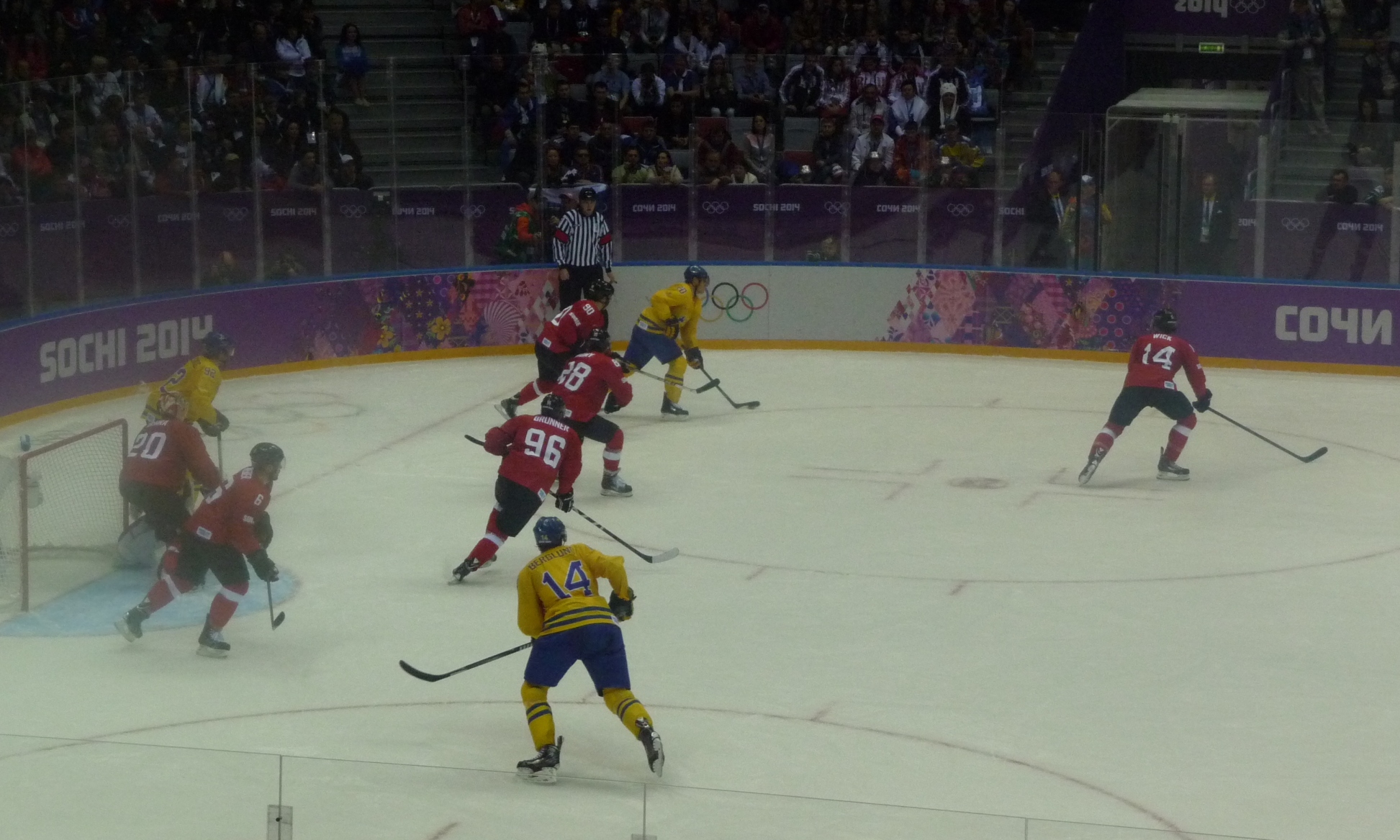 Switzerland is still aggressive at the begin of second period and Lundqvist makes a difficult save on Wick and other with the mask on Ambuhl. On the other side, Berra well blocks on Berglund. Switzerlans risks a lot during two consecutive Swedish powerplay in the middle of the period and a good work by Berra on long-range shots saves the team. Same Berra is very reactive at 38 when a lost puck comes on Carl Hagelin stick for the quick shot and the save of Swiss goalie closing a period dominates by Sweden.
Alexander Steen opens hostilities in the last period with a shot body-deflected by Berra, while Lundqvist seats on a deflection by Romy and decisive in deflecting a Luca Cunti shot. A very balanced game can be determined by an episode: that's it: at a "normal" shot by Henrik Karlsson is inaccurately controlled by Berra, the puck touches the goalie pad but doesn't stop, coming out from goalie leg for an easy tap-in by Daniel Alfredsson. Berra in post-game confirmes he didn't see the puck after the Karlsson shot "It was a hard shot, and it bounced under my arm, through somewhere, I don't know. I thought at first I had it, so I was late on the rebound. The puck was laying there and the guy was right there to score." Switzerland try to organize a reaction and has good chances with Wick and a good move by Roman Josi but Lundqvist today seems insurmountable. Simpson decides to pull the goalie but Sweden control very well its defensive zone frustrating last Swiss tries.
After the game game-winning scorer Daniel Alfredsson compliments opponents: "Last year, the Swiss played unbelievably. We knew they were going to be a much sterner test than the Czechs were. And I think we were caught off guard anyway. They really took it to us the first 10, 12 minutes of the first period. We got a little bit better. In the second and third I thought we played a lot better, and it looked like they fatigued a little bit." Then admits his goal wasn't the most difficult he ever scored: "Well I was battling in our own end, and then I saw Erik Karlsson get it and I thought 'I'm going to bust my butt up the ice.' He made a couple of nice moves, and I just drove the net and was lucky to get a juicy rebound. It was one of the easiest ones I ever scored and it was also a big one."
Damien Brunner is dejected:"It's a tough loss. We were the better team in the first period and I thought they were better in the second. We had our chances and played a strong defensive game. It was a weak goal we gave up there and we deserved the points, but without offence, you can't win a game out here."
Night hero Henrik Lundqvist "We had a tough time in the first period, adjusting to their speed, they played hard and smart, in the last few years they have improved as a hockey nation and you have to respect the way they work as a team. After that we regrouped, and played our game, created a lot of chances. It was a huge win for us."


Czech Rep.: Tipsport extraliga | 1.liga | 2.liga

Slovakia: Tipsport Extraliga | 1.liga

Sweden: SHL | HockeyAllsvenskan
Other: EBEL | Belarus | Croatia | Denmark | Estonia | France | Great Britain | Iceland | Italy | Latvia | Lithuania | MOL-liga | Norway | Poland | Romania | Serbia | Slovenia | Spain | NHL | AHL |
League standings
Game fixtures
League leaders
After two years of preparation, next November the new multi-national tournament will see the light Read more»
KHL President Alexei Morozov said non-Russian clubs will start the season in Russia and may stay there until the issue of crossing borders between states is resolved. Read more»