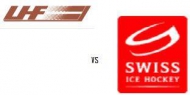 Latvia - Switzerland preview and latest news
Switzerland opens Sochi campaign as world vice-champion

LATVIA
---
LATEST ABOUT LINE-UP:
Edgars Masaļskis will be starting goalie, as announced by coach Ted Nolan. Koba Jass and Armands Berzins won't be in the line-up
PLAYERS' COMMENTS ABOUT THE GAME:
Ted Nolan (coach): The Swiss are a hard-working team, so we have to match their work ethic. That's how we've had success in the past, trying to outwork teams, keep our shifts short.
Zemgus Girgensons: We just have to play as a team. We are definitely the underdogs in our group. Besides that, there are no odds when you step on the ice, it is about who is better on the night. I don't really know what the Swiss play; as a player I never really look into what the other team plays. I look more into what I have to do, what is my job out there.
 Ervins Mustukovs: "I think the key is to play very defensive hockey because the Swiss team is very fast. You can win one game offensively but defence wins championships. I don't think we have advantage, it will be two even teams, and then we'll see on the night. I don't think they have many weaknesses and they have great goalies. Jonas Hillier, well, he's a big goalie!
LINE-UP:
Not known yet

SWITZERLAND
---
LATEST ABOUT LINE-UP:
Jonas Hiller will be the starting goalie, with Reto Berra as back-up. altough not official, probably the not dressed players will be Patrick von Gunten and Morris Trachsler
PLAYERS' COMMENTS ABOUT THE GAME:
Mark Streit:
"
They're a Russian-type team, they're skilled, they're probably going to have a lot of speed and try to make plays. We have to skate, we have to take away space and time from the forwards. It doesn't matter if it's Latvia or Czech Republic or Sweden, they're all skilled. There's a lot of room out there, it's big ice, so you want to close the gaps quickly and take the time away because if you give them too much time they'll make you pay.

LINE-UP:

Hiller (Berra); Diaz, Streit; Seger, Vauclair; Weber, Josi; Blindenbacher; Brunner, Romy, Wick; Niederreiter, Martin Plüss, Moser; Bodenmann, Cunti, Hollenstein; Bieber, Ambühl, Suri; Gardner.
HEAD to HEAD at the Olympics
First ever game between the teams at the Olympics

Czech Rep.: Tipsport extraliga | 1.liga | 2.liga

Slovakia: Tipsport Extraliga | 1.liga

Sweden: SHL | HockeyAllsvenskan
Other: EBEL | Belarus | Croatia | Denmark | Estonia | France | Great Britain | Iceland | Italy | Latvia | Lithuania | MOL-liga | Norway | Poland | Romania | Serbia | Slovenia | Spain | NHL | AHL |
League standings
Game fixtures
League leaders
Thailand was outstanding at the Southeast Asian Games in Manila, Philippines, beating Singapore 8-0 in the final. Read more»
First held at the 1920 Summer Olympics, the IIHF Ice Hockey World Championship is an annual tournament and one of the most exciting ones as well. The high-profile tournament was formed in 1908 and first held in 1920. In the beginning, ... Read more»