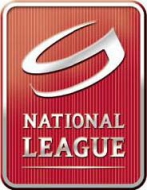 Fribourg beats SC Bern 3-1 to tie the finals at 2
Fribourg went to Bern ice win 3-1 with and tied 2-2 in the series of the final play-off LNA;
Play-off
Bern 1 Fribourg 3 (2-2 in series)
Fribourg went to Bern's ice win 3-1 and tied 2-2 in the series of the play-off final LNA. Fifth act will be play Saturday night.
Fribourg found all these qualities that aloud them to win important games, which they had failed in the first two matches. Tonight Fribourg gave a lesson to the Bern, by being supreme in the neutral zone.
With five minutes into the game, the score was already 2-0 for the Fribourg. Jeannin, forgotten by Gardner, beat Bührer. One minute later Benjamin Plüss faster then Bern defense does the second for visiting team.
Difficult to recover from such a departure. Especially when Fribourg was also ready to play physical. However, home team enjoyed a power-play to reduce the score to 2-1 by Gardner in a rebound concedeed by Conz. Bern goal, however, would not be enough to keep team in the game, and the third goal by Benjamin Plüss in power-play definitively trow Bern hopes away.
Benjamin Conz with 29 saves and Benjamin Conz with two goals led the winning team.
Play-out
Lausanne 3 Langnau 1 (3-1 in series)
Fourth meeting between Lausanne and Langnau to found the twelfth team for next year's LNA. And with Lausanne victory (3-1), the LNB team provides three match puck for one place in LNA.
Everything was decided in the last third of a closed meeting between the two teams. But as in their two successes, Lausanne have found the key to pass Langnau.
Lausanne expected to see a recovery by Langnau as a result of the coach chage and the arrival of the legendary Jakob Kölliker.
The former defender from Biel, and German's coach made some changes, including returning of Mark Popovic replacing the top scorer Mclean. The target was to see Langnau defense in better plan then last three games. But a goal at minute eight by Swiss national player Thomas Deruns trow Langnau hopes away. Even if Langnau was more dangerous in this game then the three others, home team never panicked and the victory offers no doubts.
In case of victory Saturday night Lausanne could imitate his twin team in Sweden(Leksand) and comeback to LNA nine years later.

Czech Rep.: Tipsport extraliga | 1.liga | 2.liga

Slovakia: Tipsport Extraliga | 1.liga

Sweden: SHL | HockeyAllsvenskan
Other: EBEL | Belarus | Croatia | Denmark | Estonia | France | Great Britain | Iceland | Italy | Latvia | Lithuania | MOL-liga | Norway | Poland | Romania | Serbia | Slovenia | Spain | NHL | AHL |
League standings
Game fixtures
League leaders
As the pandemic continues to ravage ice hockey throughout the world the Scottish Ice Hockey Association decided enough is enough. Read more»
The IIHF Council decided unanimously today to initiate another series of tournament cancellations for the 2020/21 season, following recommendations of the IIHF COVID-19 Expert Group. ... Read more»