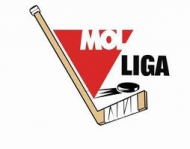 Dab.Docler wins MOL Liga 2011-2012
Dab.Docler from Dunaújváros, Hungary sweeps the final series against Miskolci JJSE. Imre Peterdi scores a hat-trick in the last game.
Imre Peterdi scored all three goals in the championship winning fourth game of the MOL Liga. Dab.Docler beat Miskolci JJSE away 3-0 and Peterdi scored 1-0 at 17:50 and then added another two goals in the second half of the middle period. Peter Sevela in the net earned his first shutout of the playoffs.
Dab.Docler opened the final series with a 4-2 win at home on February 15. The day after another home game was won 6-2. The third game, Miskolci JJSE's first at home, was closer. Miskolci even had a 2-1 lead early in the third period but a goal from Balázs Somogyi tied it and then Imre Peterdi got the winner.
Dab.Docler under the leadership of the Swedish coach Stephan Lundh finished second in the regular season and beat Romanian Corona Fenestela Brasov in three straight games in the semis. In the other semi final series fourth placed Miskolci JJSE surprisingly knocked out the regular season winner and last year's champion HSC Csíkszereda 3-2.
Current events
External links

Czech Rep.: Tipsport extraliga | 1.liga | 2.liga

Slovakia: Tipsport Extraliga | 1.liga

Sweden: SHL | HockeyAllsvenskan
Other: EBEL | Belarus | Croatia | Denmark | Estonia | France | Great Britain | Iceland | Italy | Latvia | Lithuania | MOL-liga | Norway | Poland | Romania | Serbia | Slovenia | Spain | NHL | AHL |
League standings
Game fixtures
League leaders
Ahead of the coming World Championships the EIHL is to host a new mini series. Read more»
A short Cup competition involving four teams is to be played from next week in England. Read more»