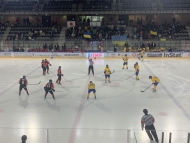 WJC18 Division 1A Final Day recap
Kazakhstan celebrates the promotion in Elite Division while hosts France is relegated
Today was the last day of competition in Angers and the least we can say is that the suspense was there because everything was still to play on this last day. For the first game
of the day, the Japanese received the Ukrainians who were fighting for their survival. We had to wait until the second third time of this disputed game to see the first goal. Fuji Suzuki took advantage of a nice pass from Taisetsu Ushio to open the score (1-0) but Stepan Gerasymenko answered him in shorthanded to close the third (1-1). The third third period saw the two teams neutralize each other and Ukraine obtained the point of maintenance by going to overtime. In the latter, Fuji Suzuki scored a solo goal to give his team the victory and medal hopes (2-1).

The second game of the day was between the Danes and the Hungarians. Both teams could hope for gold if they could get a favourable result in the last game of the day. But the afternoon turned sour for the Hungarians who quickly took the water against the Danes. Oscar Molgaard opened the score (1-0) and Anton Linde doubled the score at the end of the third period (2-0) before Thomsen increased the gap ten seconds later (3-0). Thomsen scored twice in the second half (4-0) and Andersen added a fifth goal before the break (5-0).
The third period was marked by the expulsions of Laskawy and Bodzai, which allowed the Danes to seal the outcome of this game on the double power play (6-0 and 7-0). The Danes conclude their tournament in the most beautiful way and put the pressure on the Kazakhs who must now win against France.

France was condemned after the point won by Ukraine. Assured to play in D1B next year, the local team did not save the honor against Kazakhs. Migunov opened the score quickly (0-1) but Serres answered him (1-1) and the French hopes were reborn. Only for a short time since Sitnikov (1-2) and Orazov (1-3) allowed the Kazakhs to lead after twenty minutes.
The gap widened a little more in the second period thanks to Kirill Kankin (1-4) before being extended at the end of the game (1-5 then 1-6). France will not have won a single game for its home World Cup and is relegated in D1B by the small door.

Current events
External links

Czech Rep.: Tipsport extraliga | 1.liga | 2.liga

Slovakia: Tipsport Extraliga | 1.liga

Sweden: SHL | HockeyAllsvenskan
Other: EBEL | Belarus | Croatia | Denmark | Estonia | France | Great Britain | Iceland | Italy | Latvia | Lithuania | MOL-liga | Norway | Poland | Romania | Serbia | Slovenia | Spain | NHL | AHL |
League standings
Game fixtures
League leaders
A look back at a season that lived up to its promise. Read more»
The Alliance of European Hockey Clubs (E.H.C.) has announced the nominees for the 2023 Fenix Outdoor & Warrior European Hockey Awards. Read more»