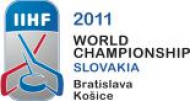 "I have two medals from the World Championships, but I don´t have the Gold," says a rising Russian superstar
Nikolai Kulemin is the second youngest player in the Russian line-up, but he collected the most points during the regular season [30 goals and 27 assist] after phenomenal Alexander Radulov who´ve got 80 points in 54 matches and Ilya Kovalchuk who tallied thirty-one goals and assisted on another twenty-one in NHL. He had some chances to make yesterdays match against Denmark a little less nervous.
It was very tight match. Did you expect Denmark to play like that?
They played very hard, we had a couple of bad penalties that´s why we were losing. We had got a lot of chances to score but we scored only four goals.
What do you expect from next matches against Finland and Czech Republic?
Every game is going to be harder now. We are supposed to get ready, we have a day's rest.
You have had your best season in Toronto, you´ve scored 30 goals and assisted on 27 more.
I had a good line. We played a lot, we played power-play, the coach gave me more ice-time, that´s why I think it was the best year I´ve had.
You are the only Russian on the Maple Leafs roster. How did you get along?
I was in line with Mikhail Grabovsky and Clark MacArthur. Mikhail is from Belarus, he speaks Russian but now it doesn´t matter. I´ve learned English and I can speak with everybody. So it´s not a problem anymore.
Toronto didn´t get to the play-offs for the sixth time in row. What is the mood?
A new coach has come, so did the general manager. They tried to make a new team, bring many young players. Everybody improved during the season and by the end of the year they played well. Look at the Germany. If we play like them next season we would get to play-offs for sure.
You are currently the guy who played most matches for Toronto, but in the Russian team at the World Championship you are the second youngest. What is your role in the team?
I don´t know. Just to play my game, help the team, just do what I do. Do what coach says to me.
You already have two medals from World Championships. Do you expect to achieve the third this year?
Yeah, I´ve got two but I don´t have the gold one.
You´re married and you have a young son. Do they come to support you on the matches?
They´re staying at Toronto right now. They watch our games when they can.
Do you expect your son to become a hockey player as well?
Yeah, he is too small for that right now but I love him to watch the hockey. I will help him as well as I can.
Current events
External links

Czech Rep.: Tipsport extraliga | 1.liga | 2.liga

Slovakia: Tipsport Extraliga | 1.liga

Sweden: SHL | HockeyAllsvenskan
Other: EBEL | Belarus | Croatia | Denmark | Estonia | France | Great Britain | Iceland | Italy | Latvia | Lithuania | MOL-liga | Norway | Poland | Romania | Serbia | Slovenia | Spain | NHL | AHL |
League standings
Game fixtures
League leaders
Already eliminated, the hosts scored twelve goals to bid farewell to the Continental Read more»
Estonian champion finished the qualification group with perfect record and advances to second round Read more»