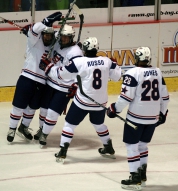 Are There Any Differences Between American and European Ice Hockey?
Ice hockey is a sport that is watched all over the world and adored by fans in almost every country. In particular, the game is loved in North America, as well as Europe. But one question that a lot of people ask is; is there a difference between ice hockey played in North America and Europe? Well, the answer is yes. Let's take a look at the difference.
NHL Ice Rinks are Smaller Than European Counterparts
Fans might not realise that there is a difference when it comesto the ice rink that is used to play the sport. In fact, there is around five yards of a difference. Namely, the ice rink used in America is smaller than what you would find in Europe. While this is something that you might not have realised being a spectator, it can have a difference in the game itself.
Let's take a look at the length of an ice rink first. For example, take the Deutsche Eishockey Liga (DEL) or the German national league for ice hockey. Their pitch is 61 yards in length. But an NHL rink is only 60.96 yards. This is only a slight variation and it may not seem like a big deal. But there is also a difference when you look at the width of the ice rink and this is where it gets interesting. The DEL enjoys 30 yards in width compared to 25.91 yards in the NHL.
The Differenced Caused by the Varying Width
So, is there going to be any real difference when it comes to a game of ice hockey? Well, let's point out the obvious. Players that are playing ice hockey in the NHL are going to be playing on an ice rink that is shorter and narrower. As a spectator, this can mean that you can look forward to action-packed matches. The players are going to have less room on the ice rink, which means that speed is going to be important. There will be less time for each player to spend with the puck, with a lot of physical movements in the game. A lot of spectators like that type of play, as it can be exciting to watch and be full of drama in the game. You can check out theNHL odds before a game to have even more fun.
On the other hand, there is more space on European ice rinks. This is going to give players more space and it can lead to more time with the puck. The game can be slower and there is going to be less physicality than you cansee in the NHL. Instead, there is time for more tactics and technical play. Some people prefer to watch a game that can present more skill. Indeed, it is believed that a European ice rink can provide this simply by having more space to play. This could also mean that there is less scoring in a match too.
Current events
External links

Czech Rep.: Tipsport extraliga | 1.liga | 2.liga

Slovakia: Tipsport Extraliga | 1.liga

Sweden: SHL | HockeyAllsvenskan
Other: EBEL | Belarus | Croatia | Denmark | Estonia | France | Great Britain | Iceland | Italy | Latvia | Lithuania | MOL-liga | Norway | Poland | Romania | Serbia | Slovenia | Spain | NHL | AHL |
League standings
Game fixtures
League leaders
A new Extraliga and Vysshaya League are born aiming to increase competitiveness Read more»
The Champions Hockey League Board cancelled the Wild Card for Belarusian champion Read more»