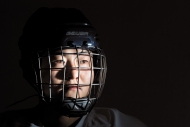 Born in the North, representing South
Defector Choi Kwang-hyouk hopes to carry South Korean flag in 2018 Paralympics
Korea Times photo by Choi Won-suk
For Choi Kwang-hyouk, 29, living on his own in North Korea was like living somewhere without a roof or pillars.
"I always felt I was wet, because there was no roof to cover my head; you feel alone," Choi said. "The loneliness was worse than the hunger," he said, at his current residence in Anyang, Gyeonggi Province on Monday.
Choi, originally from North Korea, was a child beggar who lived on his own since he was eight or nine years old, when neither his grandparents nor his parents could afford to take care of him especially after the 1995 famine that killed a huge number of North Koreans.
It has been 15 years since he fled to South Korea, and Choi is now a senior at the Korea National University of Welfare and among the proud 17 members of the country's ice sledge hockey national team. He hopes to eventually play at the 2018 Winter Paralympics Games in PyeongChang. The sport is playing ice hockey on a sledge. He was enjoying three days off from national training at the time of the interview.
Ice sledge hockey is one of the most popular Paralympic sports, and Choi, who lost his left foot as a child beggar, is one of the first North Korean defectors to bear the Korean national flag. North Korean defectors began arriving in increasing numbers in the late 1990s; the Seoul government said the figure is expected to reach 30,000 in November.
Choi became a national player this June. Asked what has changed since then, he said, "Not much," laughing. For him, becoming a national player has given him new affirmative goals — to popularize the sport for those who are physically challenged and to win at the Winter Games. Does he want to win gold? "Ha ... I think all athletes have that wish," he replied.
These are hard-found goals for Choi, who also had to live on his own after arriving in South Korea in 2001. They are what keep him in line, even when he feels unstable, pressured and stressed.
Born in Hwaseong, North Hamgyeong Province in 1987, Choi was raised by his maternal grandparents, who passed away owing to the famine in 1995 that killed about three million North Koreans. Choi thought he would go back to his parents to live with them, but family misfortune did not allow it, and he was forced to seek food, clothing and shelter on his own, begging in Yongban, North Korea. He was among the countless child beggars in the country.
"I spent about five or six years begging for food," Choi said. He said even within the world of child beggars, there are certain rules and strata. One first starts with begging, then moves on to stealing food and ultimately, to pickpocketing. He admitted that he reached the top, where nobody in North Hamgyeong Province would touch him. He said, "I didn't like to lose, I was fearless and I had guts," adding that his experience as a child beggar serves him now as he plays ice sledge hockey. He said he was never a model person, but that's what kept him alive.
He was selling ice cream on trains when he fell off of one, hurting his ankle while fleeing authorities. He was lucky to go to a hospital, but they had to cut off his left foot without anesthesia.
"I remember that surgery clearly. It didn't hurt much when they sawed the bone, but when they were sawing through the skin, that hurt," Choi said. "I thought I was going to die," he said.
He said those were his worst days as a child beggar, and they went on for two years. "Then, I only begged for food," he said. He was sent back to Hwaseong to an orphanage, but he escaped because the noodles they rationed there were less than what he could obtain from begging.
He said those were dark times, when he saw many deaths, especially public executions. "In North Korea, they execute publicly. And family members dare not cry, for they too would be taken away," he said.
He said he felt that people there were full of madness or some hard-core brittle energy to survive. "Human life was worth less than that of a cow, as the cow did all the hard work in the absence of machinery (and thus, was more valuable)," he said.
Choi said he was still on the streets of Yongban also in Hamgyeong Province when a stranger approached him and told him his family was looking for him. At that time, there were rumors that people were buying children to sell their organs. But, Choi said, he was so tired and he thought "come what may." So he went with the woman, who took him to his uncle, someone he'd seen several times as a child, and with his uncle, crossed the Tumen River to China. But his uncle put him in a taxi alone to Yanji. "I was like, 'Why?'" The uncle said he would go back to the North to bring back Choi's younger sister, and he did.
He arrived in South Korea in August 2001. He met with his father, who had remarried. He tried to live with his father and stepmother, but he could not get along with the latter, so he went to live at a South Korean orphanage. "When I first met my father (in South Korea), I felt safe for the first time. But that was a misjudgment," he said. He did not specify as to why his parents now are remarried and living with their new respective families. He said he now has three step-sisters.
Listening to the story of how he moved from an orphanage to his uncle's place and then again to community housing for North Korean defectors was like reading a dramatic novel. It was a reality far removed from the fast-paced modern South Korea, where the news screams of unprecedented unemployment rates and a gloomy future. As he told his story, his eyes sometimes welled up, but he also laughed a lot in between.
Choi said he was rebellious and full of rage at that time, especially during middle and high school.
"I remember even when on the streets in North Korea, it was the gentle-spirited who first disappeared or died," he said. "I also learned that when you start to bow, people will continue to target you."
He said his middle and high school days in South Korea were filled with discrimination. "I remember, they looked at me like a novel being, and when the people stared, especially at the physically challenged, it was like they want to stare at you until you are out of their sight," he said.
Only in the South did he start blaming his parents for his difficulties. "Back in the North, I just had to worry about my next meal, for my survival," he said.
But never one to back down, he fought off rude people. After his unstable middle and high school days in South Korea, during which he said he drank heavily and played a lot ofcomputer games, he tried to get back his spirit. Now, when he trains, he is not allowed to drink.
"I think it was one morning after I had emerged from playing computer games all day at a PC-bang. I smelled of smoke as I walked past other people, South Koreans, on their way to work on a bright day," he said. He said that morning reminded him of his days as a child beggar, dirty and aimless, and resolved to graduate high school and thought about his future. "It was like I was in a never-ending maze, without an exit."
He entered college, the Korea National University of Welfare in Pyeongtaek, Gyeonggi Province, in 2011, and learned how to make medical prosthetics. Then he started the novel sport ice sledge hockey in September 2014 upon recommendation of a school official.
"Ice sledge hockey, it is a very macho game. It allows for body check and stick check, which is a good fit for my personality," he said.
At 160 centimeters, Choi looks fit and slim. When training, he works 10 hours a day, of which about two hours are designated for weight training. His diet mainly consists of Korean food, and his team eats meat about three times a week. Having been introduced late to the game, though, he admits he feels stressed trying to catch up. Choi struggles with the theories of ice sledge hockey just as he struggles with the theories of his major in college.
"These days, I try to do image training, by thinking of (and visualizing) how Korea's No.1 ice sledge hockey player Jeong Seung-whan plays.
Choi lives alone. His younger sister is married and living in Bucheon. He was miraculously reunited with his mother, who now lives in Suwon with her new family, in 2014, through a television program that reunites long-lost family members.
Does he feel like he lives in a house with a roof and pillars or walls around him now?
"Yes, somewhat shabby and leaking, but yes," he said.
"PyeongChang is what keeps me focused. And having been through all that I have been through, I want to tell those who are physically challenged to know that there is more than sadness or limits to a physical challenge. You can only feel the stress when you are alive. To the North Korean defectors whom I know are going through great mental stress, I want to tell them to let their time of wandering in the South be as short as it can be," he said.
After PyeongChang, Choi said he is debating whether to take part in the next winter games. So what is his long-term plan in the South? Choi who is single wants to get married soon, and spend his future making prosthetic equipment for children.
"I dare say, to be able to at least buy what my children ask for," he said.
Current events
External links

Czech Rep.: Tipsport extraliga | 1.liga | 2.liga

Slovakia: Tipsport Extraliga | 1.liga

Sweden: SHL | HockeyAllsvenskan
Other: EBEL | Belarus | Croatia | Denmark | Estonia | France | Great Britain | Iceland | Italy | Latvia | Lithuania | MOL-liga | Norway | Poland | Romania | Serbia | Slovenia | Spain | NHL | AHL |
League standings
Game fixtures
League leaders
With a brilliant second period Latvian champion secure the first victory in Budapest with an hattrick from veteran defender Read more»
In the opening game of Continental Cup Group C, host earns first points dominating the second and third period, despite a bad injury suffered by sniper Rasmus Kulmala Read more»