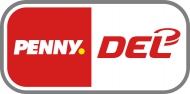 EHC München wins first DEL title
With a sweep in the Finals EHC München won its first championship against Grizzlys Wolfsburg yesterday. A 5-3 road victory settled it.
München won the regular season in the DEL and they also dominated the playoffs. With just 2 defeats in 3 playoff series they won a well deserved championship. The closest game in the Finals came in game 1. At home they had to go through overtime, where Jeremy Dehner scored the game winner at the 71:40 minute mark.
In game 2 it looked like Wolfsburg could make good use of its home advantage when they scored 2 goals within the first 6 minutes. The Bavarians had an answer though with 5 goals to turn the game in their favour. James Sharrow and Mark Voakes managed to score 2 more goals for Wolfsburg afterwards in a crazy game, but München carried the 5-4 lead over the finish line.
Back home for game 3 München had an easier night. Maurer, Dehner and Christensen established a 3-0 lead for the home team before both teams added one goal each in the final minutes to give München a 4-1 victory.
Game 4 was the chance for a sweep in the Finals, a rather rare feature. In the first period the game went back and forth. Toni Söderholm's initial go ahead goal was soon equalized by Wolfsburg's Mark Voakes with a shorthander. Within a minute after that Michael Wolf gave München another lead that was again evened up by Gerrit Fauser. Wolfsburg surely did not want to let the journey end here. Voakes was at it again with a powerplay goal midway through the second period to give Wolfsburg the first lead of the game.
But then the series took its final turn. Maximilian Kastner, Keith Aucoin and Steve Pinizzotto scored for München and secured a 5-3 win that finished the DEL season with a champion EHC München.
Current events
External links

Czech Rep.: Tipsport extraliga | 1.liga | 2.liga

Slovakia: Tipsport Extraliga | 1.liga

Sweden: SHL | HockeyAllsvenskan
Other: EBEL | Belarus | Croatia | Denmark | Estonia | France | Great Britain | Iceland | Italy | Latvia | Lithuania | MOL-liga | Norway | Poland | Romania | Serbia | Slovenia | Spain | NHL | AHL |
League standings
Game fixtures
League leaders
A new Extraliga and Vysshaya League are born aiming to increase competitiveness Read more»
The Champions Hockey League Board cancelled the Wild Card for Belarusian champion Read more»