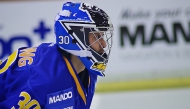 Hosung Son - Starting Again
Hosung Son talks about his time in the military and history in hockey as well as the upcoming season
When Hosung Son left Anyang Halla to join the Korean military as part of his mandatory service, the team was at a high point. They had just won their first Asia League championship and had finished first in the regular season for a couple years in a row. The same year that Hosung left for military service, long time veteran Patrick Martinec left the team. Their departure saw Halla drop from a first place regular season finish to fourth. While the team eventually shared a championship with the Freeblades, it's unclear who might have emerged victories had the series been played. Since then, the team has struggled to regain that glory, ending in a fourth place regular season finish and sweep at the hands of the Eagles in the first round.
Hosung played back-up goalie last year as he returned from military service. This year, Eum has left the team and Hosung finds himself again in spotlight.

Eurohockey: This year it seems you will be the starting goalie. How are you feeling after your recovery year last year?
Hosung: I was nervous at first coming back, I didn't really skate for two years, but I've always had confidence in hockey, I feel good coming back playing hockey my favorite sport. I have a lot of confidence.

EH: Tell us a little bit about your military service
HS: I went to the army, but I had an office job. So when I was in the army I was doing that. I trained on the side a little bit. I also taught little kids to play hockey.

Hosung stares down Sangmu on Sunday
EH: How did being in the military effect your game? Were you able to practice at all during that time?
HS: Last year was the first year I came back from the army. I had a tough times, after two years resting without hockey, I kind of struggled, but this year I'm ready. I'm practicing with the team. I've been watching a lot of olds videos and movement videos. I feel a lot of confidence in this year.

EH: If you knew a special military team like Sangmu was coming, would you have delayed your military service?
HS: If it was possible I probably would have delayed it and gone to the army team, but because of the age limits, I had no choice but to do it then.

EH: You've been playing in the league for many years, what is something you'd identify as a big change since you first began in 2005?
HS: Comparing to when I started with Kangwon Land in 2005, the level of play has increased. It's faster, much faster, much more experienced people coming in and joining the league, it's a much better league.

EH: How do you prepare yourself on gameday?
HS: I prepare everything before the game, just get everything setup. When I am at home before, I always think about hockey, read books, try to get my mind focused. I come here early, I'm the first guy to come to the rink. I go over my equipment and get settled and think about hockey and focus my mind mind more.

EH: If there was one aspect of your game that you'd like to improve, what would it be?
HS: I'd like to have more focus

EH: When you were young, what goalie did you want to style yourself after?
HS: Patrick Roy and Martin Brodeur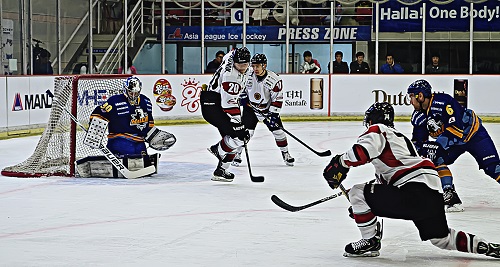 Hosung makes a save against Sangmu on Saturday
EH: Before you joined the Asia League you did play in the Korea League. What was that like?
HS: To compare the Korea League and the Asia League, level-wise they are way different. The players in the Asia League are much faster, stronger and skill-wise. There are a lot of veterans and import players in the Leauge so its much different.

EH: Where do you want to take your career from here?
HS: My first goal is the Asia League. I want to play with Halla and win a championship, like every other player. If I have an opportunity to go somewhere else, maybe Finland, or Europe, I'd love to go and try-out. But right now I'm focused on the Asia League and Halla.

EH: Thank you for your time!


Current events
External links

Czech Rep.: Tipsport extraliga | 1.liga | 2.liga

Slovakia: Tipsport Extraliga | 1.liga

Sweden: SHL | HockeyAllsvenskan
Other: EBEL | Belarus | Croatia | Denmark | Estonia | France | Great Britain | Iceland | Italy | Latvia | Lithuania | MOL-liga | Norway | Poland | Romania | Serbia | Slovenia | Spain | NHL | AHL |
League standings
Game fixtures
League leaders
A new Extraliga and Vysshaya League are born aiming to increase competitiveness Read more»
The Champions Hockey League Board cancelled the Wild Card for Belarusian champion Read more»