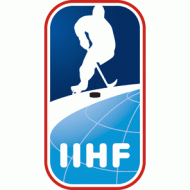 Triumph of Poland team with Russian coach at Ukraine
Poland U20 national team with a new head coach made a fantastic success by winning their group and promoting to Division I, Group A
In September Poland Hockey Federation decided to invite Russian coaches to their national team. Igor Zakharkin headed main national team, Andrei Parfyonov who work with Russia U18 NT at two last WJC U-18 championships was appointed as head coach of U-20 and U-18 teams.
Before the start of the WJC U-20 in Division U20, Group B I asked him about the aims on this tourney.
"We need not to relegate from this stage, be higher than 4th place it will be good. If we win it will be super-result!" Parfyonov said.
The tourney which was held in Donetsk started on Monday for Poland with a game against Kazakhstan who had guys with experience in Russian MHL. But Polish hockey players beat them 6-3, host Ukrainian beats 2-1 SO Great Britain. Poland improved their position at next game day with win over GB, at the same time Italy got the second win by beating Ukrainians. At third day of games which teams lost to Ukraine and Kazakhstan and two ex-USSR countries got a chance to get promotion. But on Saturday when Poland and Italy win another games, Kazakhstan and Ukraine played in SO and lost important points which can help them not to depend on the result of game between Italy and Poland.
Before last game Poland has one of the best attack lines by scoring 17 goals, Italy at the same time conceded only 3 goals. In first two periods Poland shot more, won more faceoffs, but trailed 0-2. With 26 seconds to play in the 2nd Kacper Guzik scored his 6th goal of WJC. He tied the game early in the third and made a hat-trick at 57:28. The third goal led Polish team to Division I, Group A where they will play next year against Belarus, Denmark, Austria, Slovenia and one team who will relegate from WJC Top Division in Ufa.
The loser of this event became team Croatia who lost all 5 games and score their first goal at 55:31 of their last game. Luka Mikulic from Medvescak Zagreb scored this lonely goal.
What about players? Kacper Guzik from Poland became the best forward, scorer of the tournament. GKS Katowice forward earned 11 (8+3) points in 5 games and led the team to win by scoring three goals in last game. The second and third scorers of the tournament are another polish guy Filip Starzynski and Adam Domogala, both earned 8 pts. Both of them played outside Poland, Starzynski is a player of Bismarck Bobcats in NAHL, Domogala plays for Frankfurt Lions in Germany.
Italian for their great defense was awarded by individual prize to Alex Trivellato from Eisbaren who earned 3 (1+2) points and finishes the game with "+6". Best goalie is Mykhailo Shevchuk from host Ukraine, 18-years old goalie finished the tourney with 1 shutout, 96,47% of saves and GAA 1.16.
Final standings: Poland (12), Kazakhstan (11), Italy (9), Ukraine (9), Great Britain (4), Croatia (0).
Current events
External links

Czech Rep.: Tipsport extraliga | 1.liga | 2.liga

Slovakia: Tipsport Extraliga | 1.liga

Sweden: SHL | HockeyAllsvenskan
Other: EBEL | Belarus | Croatia | Denmark | Estonia | France | Great Britain | Iceland | Italy | Latvia | Lithuania | MOL-liga | Norway | Poland | Romania | Serbia | Slovenia | Spain | NHL | AHL |
League standings
Game fixtures
League leaders
After three-years-hiatus, the Asia League was back and Korean team add another title Read more»
In late Spring, 2023, the International Ice Hockey Federation will host the 86th Men's Ice Hockey World Championships. The competition is easily global ice hockey's biggest event, with hundreds of thousands of fans traveling for each world championship finals event. ... Read more»