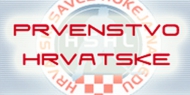 Croatian League after five rounds
Eurohockey.com takes a look on what has happened in the Croatian League and so far everything is as usual. KHL Medveščak leads the league and KHL Sisak lost all games big.
For the second season in a row the Croatian national league started in early October and will be played till late March. Four clubs will play eighteen rounds in regular season before they will enter playoffs where they will play semifinals (1st vs 4th – 2nd vs 3rd) and finals where winners of semifinal matchups will play.
Teams participating teams are the same. The main favorite and last season winner KHL Medveščak from Zagreb will play this league only with Croatian players that aren't good enough for their EBEL team. The best juniors will also play some league matches which will help them gain experience. Team can also count on Ivan Šijan, Dominik Kanaet and Mislav Blagus; only homegrown players that are part of Medveščak's EBEL squad. Players with Croatian passport who are part of EBEL squad will probably join team in the playoffs.
KHL Mladost Zagreb has better team than last season. They are playing in Slohokej league so they brought many new players and a new coach. That is Slovak Peter Strapaty who is also a player of the team. Another Slovak on the team is goaltender Juraj Gašparovič. Zvonimir Lovrenčić, Mario Čunko, Nikša Trstenjak and Hrvoje Božić came to Mladost from main rival KHL Medveščak. For Croatian league Mladost will mostly use their young players while the best ones will mostly play in Slohokej.
The third club from the Croatian capital is KHL Zagreb. The club which is mostly focused on youth development has only few senior players but those are very experienced ones; Tomislav Grozaj, Vanja Belić, Trpimir Piragić and Igor Jačmenjak. Others are almost all juniors which use this play on senior level as a great way to improve their play. Their coach is Czech Josef Halouszka who is in charge for development of young players in KHL Zagreb.
Only club outside of Zagreb is KHL Sisak from the same named town. Their main problem is lack of ice rink in their town before December. Untill then their whole hockey activity will be playing league matches once a week in Zagreb where they will play all it's matches untill the ice rink in Sisak is going to be available. Without these crucial conditions for play it's obvious that they will lose all their games. Their players don't mind for that, they love to play hockey and they will keep hockey club in Sisak alive although everything is against them.
Five rounds has been played so far.
Round one
Medveščak – Sisak 35:1, Mladost – Zagreb 8:3
Round two
Zagreb – Medveščak 5:6 SO, Sisak – Mladost 0:17
Round three
Medveščak – Mladost 4:3, Zagreb – Sisak 16:1
Round four
Sisak – Medveščak 3:11, Zagreb – Mladost 1:3
Round five
Medveščak – Zagreb 4:1, Mladost – Sisak 22:0
Everything has been as expected. Medveščak has all wins including the hard one against Mladost 4:3. Mladost is on the second place with only defeat against Medveščak. Zagreb gave hard time to Mladost and Medveščak two times but they were only able to take one point in those matches. Sisak is without points with 5 goals scored and 101 allowed. The big improvement from last season is that they now play with three full lines, not two anymore.
While Medveščak's games in EBEL attract more than 6000 spectators the games of domestic championship can't attract more than 100. That shows how low interest in the league is among the fans. But hardcore hockey fans in Croatia are looking forward to every game of this league which can offer them interesting games and solid hockey.
Current events
External links

Czech Rep.: Tipsport extraliga | 1.liga | 2.liga

Slovakia: Tipsport Extraliga | 1.liga

Sweden: SHL | HockeyAllsvenskan
Other: EBEL | Belarus | Croatia | Denmark | Estonia | France | Great Britain | Iceland | Italy | Latvia | Lithuania | MOL-liga | Norway | Poland | Romania | Serbia | Slovenia | Spain | NHL | AHL |
League standings
Game fixtures
League leaders
Home loss for the 2021 champion on the opening day of the Swedish league. Read more»
The SC Bern defender Beat Gerber played his 1168th NL game on Friday. Read more»