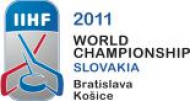 "It's a huge disappointment," confesses Canadian power-forward
It is not usual that the checking line gets a better +/- rating than the first scoring line. But it was the case in the Canadian national team. Chris Stewart has played in NHL for three seasons and he has been impressing right from the first one. The last one was influenced by injury and an unpredictable trade, but his star still shines.
What is your comment about the game?
We had the game in our hands. We had a lot of opportunities to practice playing in special teams but we didn´t have it done well today. The Russians came on in the third period, we got a clutch goal and panicked on. Kovalchuk got a chance there at the slot and scored.

The game against Russia was considered to be an early final, did you take it like that as well?
Yeah for sure. We you wanted to win the tournament so we had to beat them one time or another.

What about the tournament? Did you expect it to go this way?
No, obviously it´s a huge disappointment. We were here for one reason only, get our gold. We didn´t get the job done so we can´t be happy with ourselves.

You probably anticipated winning the qualification group.
That was the number one goal. We set the bar high up there you know we´ve got that done but it was obviously not enough tonight.

Your team consists of many guys from many different teams. Did you have enough time to get together?
We´ve got more than enough time. We came together a couple of weeks earlier. Ken Hitchcock prepared us to know each other better. We know we have to be a group to get it done.

What about your last season?
I started up great in Colorado, got hurt, came back, got traded to St. Louis, I had to ground down there and I had a pretty good end of the season. I´m excited for the next one in St. Louis.

Are you satisfied with the trade?
Yeah. I mean, obviously you never want to get traded and I thought we had a good team in Colorado. But you know – when you want to play hockey games there´re going to be some changes and sometimes you have to move.

St. Louis ended the season better than Colorado. Did you expect that?
I know they had a lot of injuries in Colorado, the same thing with St. Louis. But they´re both two good young hockey teams and I know we´ve got the bright future in front of us.

What about the next season, will it be better?
Yeah for sure. We are going to have a chance to have a good summer and a training. I´m going to get to St. Louis in August for the training camp and I wish we´ll have a good year.

You´re the power scorer for the Blues, but you have been here in the fourth line. What was your role in the team here?
I was in a line with John Tavares and Jeff Skinner. Our job was digging in the corners, play a powerful game and create a space to score for the other skilled players.

You have been in St. Louis already for nearly three months. Have you found new friends in the team? Who are your best teammates?
You know I was traded there together with Kevin Shattenkirk who was my good friend in Colorado. I´ve found good friend in St. Louis in T.J. O´Shie and Patrick Berglund.
There are only two Slovak goalies in NHL. Peter Budaj in Colorado and Jaroslav Halák in St. Louis. What was your relationship with Peter back in Colorado and how do you get on with Jaro in Blues?
We were always good friends with Boods. He has been in our organization for five years, before that he played in Toronto in OHL where I was from so we got initiated to each other and are good friends. When I was traded to St. Louis I met Halák too. He is a good goaltender, he´s signed there and he´s going to be good chap to future.
A few days after your trade to St. Louis you played against Colorado and you tallied two goals. What was going through your mind in that game?
I was stuffed with a lot of emotions; I had a lot of friends in Colorado. I obviously wanted to show they´d mistaken in trading me. Now I´m happy I´m in St. Louis and I´m excited for the future.

It is said that Canadian players take their families to the World Championships for a vacation.
That´s true.

Have you taken your elder brother Anthony [he is playing for Atlanta Thrashers]?
Oh no, he didn´t come. He is at home expecting a baby so he didn´t make the trip. His other son is five years old this year so he´s magnifying the family number.

Compare the atmosphere in Košice where you played the first two rounds and in Bratislava.
It is a lot more intense here in Bratislava. Obviously plenty of Russian fans are up there. It was a tough road game playing with those surroundings.
Current events
External links

Czech Rep.: Tipsport extraliga | 1.liga | 2.liga

Slovakia: Tipsport Extraliga | 1.liga

Sweden: SHL | HockeyAllsvenskan
Other: EBEL | Belarus | Croatia | Denmark | Estonia | France | Great Britain | Iceland | Italy | Latvia | Lithuania | MOL-liga | Norway | Poland | Romania | Serbia | Slovenia | Spain | NHL | AHL |
League standings
Game fixtures
League leaders
Växjö Lakers won the Swedish SHL playoffs for the third time. Read more»
Men's ice hockey World Championships 2021 are only few weeks away so we at Eurohockey.com dived into it and explored what to expect from the tournament. Read more»