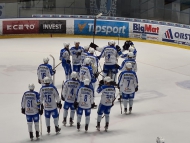 Unia Oswiecim earns a hard victory
In the Continental Cup semifinals openinig game in Nitra, Polish team had to fight to win brave Kremenchuk
Unia Oswiecim and Kremenchuk open the semi-final group of the Continental Cup held in Nitra in the weekend.
Both teams are leading their respective leagues and went to Slovakia in search of the qualification ticket for the final. Kremenchuk has loaned eight players from other clubs playing, with a many difficulties and without spectators, in the Ukrainian championship, including the goalkeeper of the national team Eduard Zakharchenko.
Polish fans are present in good numbers, while the local public and several Ukrainians often shout "Ukraine, Ukraine"
On the ice the teams immediately demonstrate the competitive charge that is expected in a final: especially the Kremenchuk proves to be a very solid and physical team, with a good skating. Unia were in control of the game most of the time, but managed to create only one real chance, with Roman Graborenko, who made a incredible mistake missing the net with the cage wide open. When the Belarusian player fails to score, however, the Ukrainians are already 1-0, thanks to the goal netted in power play by Bogdan Seredyntsky at 13:16 with a nice conclusion.
In the middle period the script seems the same, with Unia leading the game and the Ukrainians hitting on the counterattack or exploiting the various errors in building the actionmade by the Poles. In the 30th minute, with an extra man on the ice, a beautiful personal action by Dariusz Wanat is stopped by a great save by Zakharchenko. The national team goalkeeper is outstanding shortly after rebounding two point-blank shoots of the Polish attack. The match becomes very nervous, with several brawls and a rain of penalties.
In the 36th minute Zakharchenko stopped Cichy and on the counter-attack Vitali Lyalka wasted an opportunity, also suffering a penalty. Davyd Sibilevich's penalty shot is deflecting by Kevin Lindskoug. A minute later a fine shot by Boris Andryuschenko hit the base of the post. Kremenchuk accumulated penalties and was fatal 30 seconds before the siren: Pavlo Padakin served Krystian Dzubinski from behind the cage and the captain scored with a spectacular dive, placing the puck on the post without chances for Zakharchenko.
After just one minute in the last period, Krystian Dziubinski struck again, scoring Unia's second goal with a beautiful diagonal shot. Kremenchuk seemed to have run out of stamina and Unia struck again with Dariusz Wanat at 47:56. When the game seemed to be over, the Ukrainians managed to score the second goal with Vitali Lyalka, ready to beat back into the net a Lindskoug rebound on Matusevych's shot. A penalty at 2:35 from the siren condemns Kremenchuk to defeat, punished by the goal of Teddy Da Costa, whose shot is just touched by Zakharchenko. Three key points for Unia, long applauded by fans

Czech Rep.: Tipsport extraliga | 1.liga | 2.liga

Slovakia: Tipsport Extraliga | 1.liga

Sweden: SHL | HockeyAllsvenskan
Other: EBEL | Belarus | Croatia | Denmark | Estonia | France | Great Britain | Iceland | Italy | Latvia | Lithuania | MOL-liga | Norway | Poland | Romania | Serbia | Slovenia | Spain | NHL | AHL |
League standings
Game fixtures
League leaders
Cardiff Devils won by one-goal-difference against home side Grenoble and advances to the Continental Cup Superfinals along with Nomad Astana Read more»
Kazakh champion closes the Continental Cup semifinals round with a perfect record, by beating HK Zemgale in the last game Read more»