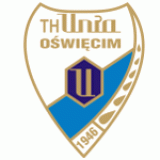 Re-Plast Unia
Short name: Oświęcim
Name in original language: TH Unia Oświęcim
Year of foundation: 1957
Colours: blue, white
Club status: active
Address: ul. Chemików 4
32-600 Oświęcim
Phone: +48 (033) 842-27-83
Fax: +48 (033) 842-27-29
Email: unia@hokej.pl
WWW: Unia Oswiecim
Did you find any incorrect or incomplete information? Please, let us know.
Season 2023-2024
Current roster
season 2023-2024
* no longer in the club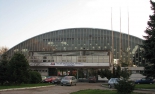 Adress: ul Chemików 4
32-600 Oświęcim
Phone: +48 (033) 847-26-68
Email: biuro@mosir.oswiecim.pl
Capacity: 4500
Opened in: 1968
from 1958 to 1999: KS Unia Oświecim
from 1999 to 2006: Dwory S.S.A. Unia Oświecim
from 2006 to 2009: TH Unia Oświecim
from 2009 to 2019: Unia Oświecim
from 2019 to present: Re-Plast Unia
from 1899 to present: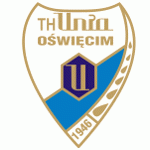 Josef Dobos new coach at Unia Oswiecim
Czech Josef Dobos, 53, is the new coach of Unia Oswiecim after the leaving of Peter Mikula. Dobos began season as Opava assistant coach in Czech Republic. He comes back on Oswiecim bench after a short stint in 2009-10 season
(04 Oct 2014)
Peter Mikula to coach Zilina
Two days after leaving Unia Oswiecim, Peter Mikula has already found a new bench: Slovak coach signed for Zilina to replace resigned Jozef Zavadil.
(03 Oct 2014)
Peter Mikula leaves Oswiecim
"Maintaining coach Mikula was a priority for us" said the president of Unia Oswiecim Artur Januszyk last April signing a contract extension for Slovak coach. Yesterday with a short statement mr. Januszyk simply announced: "Peter Mikula is no longer coach of the club per mutual agreement.Thus, we begin the search for a new coach." Mikula arrived in Oswiecim last season replacing Evgeny Lebedev after the 2012-13 title with Zvolen, leading Unia at semifinals
(02 Oct 2014)
Polish finals
GKS Tychy beat Aksam Unia 1-0 tonight to win the semi final series 4-2 and qualify for the finals against Ciarko PBS Bank. Josef Vitek scored the goal early in the third period.
Ciarko PBS Bank from Sanok had earlier knocked out JKH GKS Jastrzębie 4-1.
(20 Mar 2014)
Unia Oswiecim signs cooperation agreement
Unia Oswiecim signs a cooperation agreement with 2nd league UKH Debica to send its players with less minutes in Polish Extraliga to Debica
(04 Oct 2013)
Unia Oswiecim fires coach
Unia Oswiecim fired Russian coach Evgeny Lebedev replacing him with Slovak Peter Mikula. Unia also terminated contract with two imports Sergei Khomko and Kirill Nikulin.
Mikula, 58, was champion of Extraliga with Zvolen last season
(26 Sep 2013)
Lukas Riha suspended two years for doping
Unia Oświęcim Czech forward Lukáš Říha was disqualified for two years due to positive result in doping control. He was tested after game Unia-JKH on March, 14th. Test confirmed four prohibited substances: amphetamine, methamphetamine (D-), levmethamfetamine and pholedrine. Suspension is valid for all competitions organized by the IIHF.
(04 Jun 2012)
Sanok won Polish Cup
In a replay of last season's final, Ciarko Sanok defeated Unia Oswiecim 3-2 after shootout and won its second consecutive Polish Cup. Also in last season's final Sanok beated Unia in a shootout.
(30 Dec 2011)
Historic rosters:
Historic statistics:
Past results:
League standings:
Fast facts
season 2023-2024
Kaunas City celebrate the qualification to the second round of Continental Cup with a ten-goals victory over Skautafelag Rejkyavik Read more»
Estonian champion wins KHL Zagreb ensuring first place for the home team Read more»