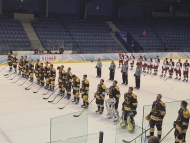 Valk Tartu goes to Budapest
Estonian champion finished the qualification group with perfect record and advances to second round
Valk Tartu easily beats the Icelandic champions of Skautafelag Akureyri and qualifies for the second round of the Continental Cup, scheduled for October in Budapest.
After yesterday's great game against Hockey Punks Vilnius, the Estonians are showing the superiority of their roster, tonight without goalkeeper Rovba and striker Galimullin on the ice.
The Icelanders, with an entirely local and well-knit roster, which is also the backbone of the national team, tried to tackle their opponents, but the technical and athletic level was certainly superior.
The first goal arrives after 5 minutes: it is Maksim Turovski who pushes the puck into a scrum in front of the goal. A minute later a great chance for SA: Johann Leifsson alone in front of goalkeeper Bunin, throws over the bar the chance to tie. In power play Valk doubles again with Turovski, served by Lipsbergs. Three minutes from the siren Bjartur Gunnarsson blatantly misses a deflection from a few steps with the cage wide open.
In the second period Valk Tartu slows down the pace allowing opponents to threaten goalkeeper Bunin. At 26:19 Miks Lipsbergs bravely throws himself on a rebound from the goalkeeper and scores the 3-0. Shortly after, Titarenko hit the post, as did Brakss in the 30th minute. An error by the Estonian defense allows Johann Leifsson to come alone in front of Bunin and bag the point of 1-3.
In the last quarter the game is more balanced and the Icelanders have a couple of chances to score in power play. But it is the Estonian power play that works best and leads to the fourth goal, scored with the cage wide open after a good tic tac toe by Ilya Dokshin.
Before the final siren and the celebration for Valk, come the fifth goal, scored by Ivan Akimov on Lipsbergs assists and the sixth, with a precise shot by Dmitri Shapovalov.

Current events
External links

Czech Rep.: Tipsport extraliga | 1.liga | 2.liga

Slovakia: Tipsport Extraliga | 1.liga

Sweden: SHL | HockeyAllsvenskan
Other: EBEL | Belarus | Croatia | Denmark | Estonia | France | Great Britain | Iceland | Italy | Latvia | Lithuania | MOL-liga | Norway | Poland | Romania | Serbia | Slovenia | Spain | NHL | AHL |
League standings
Game fixtures
League leaders
After a 4-years hiatus, a Kazakh club could be back in Russian Second League Read more»
In late Spring, 2023, the International Ice Hockey Federation will host the 86th Men's Ice Hockey World Championships. The competition is easily global ice hockey's biggest event, with hundreds of thousands of fans traveling for each world championship finals event. ... Read more»