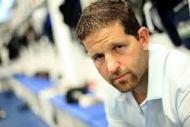 Second year coach reviews his term
Last year, at around this time, I spoke to incoming new Sheffield Steeelers (EIHL) about the challenges facing him. He is back for a second term and I wondered how things were progressing in this difficult time: here's what he had to say.
How much did you enjoy last season and what did you learn?-

I really enjoyed the season from day 1. There was obviously a big turnaround of new players coming in and we were trying to implement some new systems but I feel like we had some Chemistry right away.
We were a pretty gifted team offensively and felt like we really found our game in the mid part of season. Some consistency issue plagued us at times but if you look at the amount of man games we lost to injury that's going to happen.
I learned its a long season and need to find ways to eliminate off nights as the league top to bottom is very competitive and you have to bring your A game if you want to be at the top. We won the only trophy available which left us with a good feeling, but also leaves us wanting more
Q2
Have you made any signings yet (no need for names)?
We have been trying to do what we can with unique situations here. I am confident we will have a solid core of guys back but at this stage that's all I really want to say about that side of things.
Q3
How difficult is recruiting when you don't know what will happen, if anything?
It's very difficult. You need to know how many weeks the season is and number of games played to put a real budget in place. So I have a lot of player lists I am going through and am watching lots of video on guys that may potentially be available. Not an easy process at this stage and the market is very quiet still but when we get better info from all European Leagues on start dates things will move quickly.
Q4
Did you identify a type of player that you MUST recruit
I think there's types of players that I have seen have success here with us this year and other players in the League who you think will fit into our group well. I don't want to speak on those types of things too much but I feel like after having a year in the league I have a better idea now and will hopefully be able add a couple higher end guys to our roster.
Q5
Do you anticipate staying with Sheffield after 2023?
2023 is a long time away but I will say we are very happy here as a family. My kids are older and in school so we are here the full 12 months of the year so this is realistically our home at the moment. We really love the area of town we live and there's so much to do outdoors here which is great. My main focus now is to build off of the year we had and hopefully put more banners in the FlyDSA during the next 2 seasons
Q6
What do you feel the stamdard is like in the UK compared to the rest of Europe?
I think the higher end teams in this league would compete as mid table teams in the EBEL and feel like this league is stronger top to bottom than, Denmark, DEL2, France and Norway. There is no exact science in that but that's how I feel when I watch games from all Leagues
Current events
External links

Czech Rep.: Tipsport extraliga | 1.liga | 2.liga

Slovakia: Tipsport Extraliga | 1.liga

Sweden: SHL | HockeyAllsvenskan
Other: EBEL | Belarus | Croatia | Denmark | Estonia | France | Great Britain | Iceland | Italy | Latvia | Lithuania | MOL-liga | Norway | Poland | Romania | Serbia | Slovenia | Spain | NHL | AHL |
League standings
Game fixtures
League leaders
In its second year of existence, team from capital is crowned champion Read more»
The tenth title comes after a dominated final series, won in just 4 games. Read more»