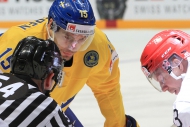 Swedish Hockey- SHL 2018/9 September Review
October is already upon meaning the first month of SHL is over. Even though it has only been five rounds there's lots to talk about all ready!
1. Linköping HC
Perhaps a surprise, but Linköping HC are top of the league at this early stage. The team from Östergötland have not lost a single game in regulation and have only lost once in overtime.
One of the most unexpected things about their success is that it is not their prestigious North American signings who are leading the way. 23 year old Nick Sörensen (5G), 18 year old Johan Södergran (4G+1A) and 23 year old Adam Brodecki (1G + 4A) are the Swedes leading the charge, whilst keeper Jonas Gustavsson leads the whole league with a SVS of 97.82%.
2. Skellefteå AIK and 3. Djurgården IF
Skellefteå AIK and Djurgården IF, both semifinalists last year are hot on their heels. The club from Norrbotten have also not lost in regulation whilst the Stockholm club have only lost one game - their opening match of the season against Frölunda Indians. However, they smashed 8 goals past Örebro HK seven days later. That means that four of the top five places in Total Points are Djurgården players. New signings Jacob Josefson (G3 +7A) and Jakob Lilja (2G+8A) lead with 10 points each and the league's top goal scorer is the young Emil Bemström (5G+1A).
14. Rögle BK
At the other end of the table, the Ängelholm club are the victims of the second and third placed clubs' success, between them knocking 10 goals past Ville Kolppanen and Justin Pogge. That leaves these two keepers with the third and fourth worst SVS% in the league. But the club's problems at also on the goal scoring front with the team only scoring four goals so far this season.
New signing Christopher Bengtsson has made a great start as he steps up from the Allsvenskan, scoring two goals in four games. But they need their experienced import players, like Matt Anderson (2 NHL; 342 AHL matches) and Christian Thomas (27 NHL; 335 AHL matches), to start ringing the siren.
At the same time, the medics and rehab team need to give full attention to top Swedes, Jonas Ahnelöv and Mattias Sjögren (in photo) so that they can get off the injury list to see the team climb up from the bottom step of the SHL.
Current events
External links

Czech Rep.: Tipsport extraliga | 1.liga | 2.liga

Slovakia: Tipsport Extraliga | 1.liga

Sweden: SHL | HockeyAllsvenskan
Other: EBEL | Belarus | Croatia | Denmark | Estonia | France | Great Britain | Iceland | Italy | Latvia | Lithuania | MOL-liga | Norway | Poland | Romania | Serbia | Slovenia | Spain | NHL | AHL |
League standings
Game fixtures
League leaders
Full analysis of the last 10 seasons of the Ukrainian ice hockey championships Read more»
Full analysis of the last 10 seasons of the Ukrainian ice hockey championships Read more»