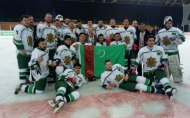 WC Div 3Q: Turkmenistan earns promotion to Division III
In their first-ever IIHF World tournament, Turkmenistan won all three games of the qualification tournament in Sarajevo to advance to Division III of the World Championships in 2019. They completed their three game sweep with a 13-3 win over host Bosnia and Herzegovina.
By outscoring their opponents 13-3 and outshooting them 58-15, one wouldn't think that the outcome of the game was ever in doubt. However, the Turkmenistan team found itself trailing 3-1 at the end of the first period, despite holding a decisive edge in play. Mirza Omer scored the first goal at 4:06 and assisted on the other two.
"I told the guys before that their goalie had only seen 20 shots in two games, so if we could get some shots on him we might get some goals," said Bosnian coach Brian Jokat. "And sure enough, on our first seven or eight shots we scored three goals."
"The first period didn't go so well for us, but the coaches told us we had to play faster and faster and we did and that's when the goals started to come," said Dovlet Soyunov, who scored Turkmenistan's first-period goal and assisted on two more later.
A pair of goals early in the second period by captain Ahmet Gurbanov – the tournament's top forward – brought Turkmenistan even. His first goal came shorthanded following an interception, and then less than two minutes later Aleksandr Vahovskiy forced a turnover in the corner and fed it in front, where Gurbanov was totally unchecked and had goaltender Edis Pribisic at his mercy.
Jokat called a timeout at that point to try to settle his team down, but a power-play goal by Amangeldi Aganiyazov at 31:06 gave the Turkmenis their first lead of the game and they never looked back. They led 6-3 after two periods and then poured in seven more goals in the third to win going away.
"Once the momentum shifted, it became really difficult for us. They shoot well and skate well," Jokat said of the Turkmenistan team. "We had them on the ropes in the first period, but it just goes to show that hockey's a three-period game and once you lose that momentum, it's tough to get it back."
Clearly the most skilled team in the tournament, Turkmenistan outscored the other three teams 41-5.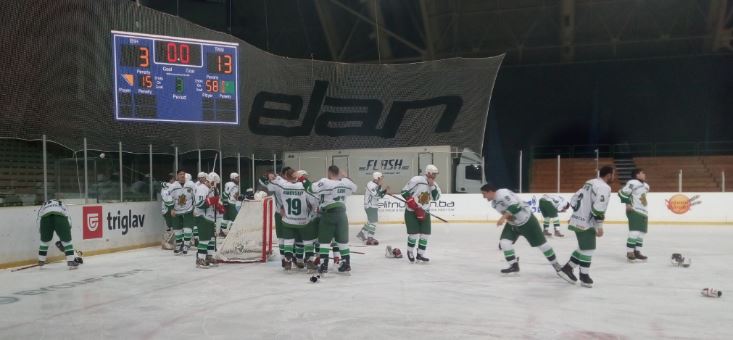 "The first game against the United Arab Emirates didn't go so well on new ice and in a new arena," Soyunov said of his team's closest encounter, a 4-0 victory. "But the second game we played very well and then you saw tonight. We're all so happy to be going to Division III of the World Championships. We're going to celebrate back at the hotel."
Earlier in the day, the United Arab Emirates defeated Kuwait 4-2 to claim third place. Jasem Alawade opened the scoring at 7:43 to give the Kuwaitis their first lead of the tournament, but Juma Al Dhaheri's first of three equalized it six minutes later and his second gave the UAE the lead in the last minute of the second period. Al Dhaheri, the UAE captain, scored four of his team's five goals in the tournament.
Current events
External links

Czech Rep.: Tipsport extraliga | 1.liga | 2.liga

Slovakia: Tipsport Extraliga | 1.liga

Sweden: SHL | HockeyAllsvenskan
Other: EBEL | Belarus | Croatia | Denmark | Estonia | France | Great Britain | Iceland | Italy | Latvia | Lithuania | MOL-liga | Norway | Poland | Romania | Serbia | Slovenia | Spain | NHL | AHL |
League standings
Game fixtures
League leaders
Already eliminated, the hosts scored twelve goals to bid farewell to the Continental Read more»
Estonian champion finished the qualification group with perfect record and advances to second round Read more»