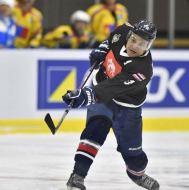 Q&A With Thailand National Team Player Likit Neimwan-Andersson
Former ECHL player Likit Neimwan-Andersson spoke to Steven Ellis from Euro Hockey to talk about the Asian Winter Games and the hope of future success for Thailand at the ice hockey level.
You may not know his name, and you may not know much about his country, but Likit Neimwan-Andersson hopes to make an impact in the sport in some way.
Earlier this year, Thailand participated in the Division I Asian Winter Games in Japan, a tournament that Thailand set out to win from the start. A 14-0 victory over Singapore gave the nation their first ever ice hockey gold.
Thailand's last medal prior to that came at the 2012 Challenge Cup of Asia, a silver medal. The team now has five total medals in international competition, with two silver, two bronze and now a gold to their credit.

Making an impact in Thailand's development is Neimwan-Andersson, a former ECHLer who has traveled around the world to play hockey. He spoke to Steven Ellis from Euro Hockey to talk about the Asian Winter Games and the hope of future success for Thailand at the ice hockey level.
SE) To those who don't know you, introduce yourself.
LNA) My name is Likit Neimwan-Andersson and I was born in Phitsanulok, Thailand. I moved to Sweden with my Mom when I was six-years-old and started to play hockey when I was seven-years-old in Nittorp IK. I signed my first professional hockey contract with Modo Hockey of the top league in Sweden when I was 19-years-old.
SE) To mainstream hockey fans, most people don't know about hockey in Thailand. Can you give a bit of history of how hockey grew there?
LNA) 30 years ago, the first ice skating rink was built for public skating. Then people who knew about hockey from Sweden and a few other countries started to organize the sport in Thailand. My friend, Claes Elefalk from Sweden, who is the agent for the famous @caahockey agency with many great NHL players, told me how he was one of the first to play the game in Thailand when he was working there for a few years.
SE) How did you first get involved in Thailand's national team?

LNA) I was coming back from the holidays to visit my hometown family and stopped by the shopping center in Bangkok. There, I heard they were playing hockey. I then started to talk to some hockey players about how I played professional hockey in the United States. From there, they told me I should contact the Thailand national team.
SE) You've been a player-coach in the past. Did you enjoy doing it like that or was focusing on being a player easier for you?

LNA) The truth is that I have been the player-coach for the men's team since I came back in 2009 until 2017. Even if I don't currently have the official status as coach, I have been doing background work training the players and creating the system for the team we use at tournaments.
SE) Prior to winning gold with Thailand, what would you say was your biggest hockey accomplishment?

LNA) Becoming a ECHL ALL-STAR player for the second best minor league to the NHL with the Augusta Lynx in 2001.
SE) Let's talk about Sapporo. What were your expectations for Thailand heading into the Division I event?
LNA) I was very excited and very honored to compete at my second Asian Winter Games. Previously, we had only captured the silver medal. So getting this opportunity after six years was an amazing feeling for me as a 44-year-old veteran player. Seeing the junior players turning into senior players and seeing them develop into champions is just an incredible feeling after finally reach our dream after seven years of really hard work.
SE) The start of the tournament seemed to be harder than the conclusion. How would you describe your team's progress throughout the tournament?
LNA) For the past 3 years, we have been seeing ourselves losing games with big numbers against Mongolia, United Arab Emirates, and Chinese Taipei. So winning against with only 1 goals ahead is just a very fantastic accomplishment. Coming back from 0-2 against Team Chinese Taipei the last 3 min of the game, was just the best feeling ever in my long career.
SE) How big was the win against Chinese Taipei, given their strong results in the Challenge Cup of Asia over the past few years?
LNA) Winning the first ever GOLD medal for Thailand was the biggest victory in Thai hockey history!
SE) You knew that you guys had the medal wrapped up before your meeting with Singapore, which was a very one-sided game. Despite that, take us through your emotions knowing that you were going to have a gold medal around your neck shortly.

LNA) For me, with going through big back pain and tennis elbow, it was really tough. So I just try to keep the team focused and making sure guys where awake and down on earth every minute of the game. No pain could stop me from finishing this tournament with the best feeling.
SE) Now that the tournament is over, how would you rate the experience?
LNA) The feeling is great and we are all very excited and really hungry to win more gold medals for our nation.
SE) Talent level wise, what would you compare Thailand's roster to compared to places you have played?
LNA) You can't really compare against top professional hockey leagues. But some of our boys are really working hard and could definitely be part of any professional team if they got the opportunity.
Follow me on Twitter, @StevenEllisNHL.

Czech Rep.: Tipsport extraliga | 1.liga | 2.liga

Slovakia: Tipsport Extraliga | 1.liga

Sweden: SHL | HockeyAllsvenskan
Other: EBEL | Belarus | Croatia | Denmark | Estonia | France | Great Britain | Iceland | Italy | Latvia | Lithuania | MOL-liga | Norway | Poland | Romania | Serbia | Slovenia | Spain | NHL | AHL |
League standings
Game fixtures
League leaders
Cardiff Devils won by one-goal-difference against home side Grenoble and advances to the Continental Cup Superfinals along with Nomad Astana Read more»
Kazakh champion closes the Continental Cup semifinals round with a perfect record, by beating HK Zemgale in the last game Read more»