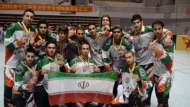 Interview With Iranian Ice Hockey Head Coach Kaveh Sedghi
Iranian ice hockey head coach Kaveh Sedghi talked to Steven Ellis about the current state of hockey in Iran, and how they plan to develop before playing for the first time in February of 2017.
When the Iranian national ice hockey team plays at the 2017 Sapporo Asian Winter Games in Sapporo, Japan, it will be the first time anyone has ever seen an international hockey game involving the country.
Hockey is very small in Iran, with no games played as a national team just yet. The country has participated at the FIRS Senior Men's Inline Hockey World Championships in the past, winning their first two games at the 2011 tournament. The team will likely be made up of Canadian and American ex-pats, with tryouts taking place in Italy from June 26th-28th. Ottawa Senators forward Mika Zibanejad is potentially the most well-known player with Iranian decent, but the odds of the Swedish forward suiting up are not very high considering it will take place during the NHL season.

But still, there's a lot of hope for the program to succeed in the near future. Iranian ice hockey head coach Kaveh Sedghi talked to Steven Ellis about the current state of hockey in Iran, and how they plan to develop before playing for the first time in February of 2017. Davide Tuniz has previously covered hockey in Iran for Euro Hockey, interviewing inline captain Arsalan Monfared back in 2015.
SE) Introduce yourself and give a bit of background on how you got involved with the Iranian hockey team.
KS) I started roller skating when I was 9 and inline Hockey when I was 14. By 25 years old, I received around 100 different colored medals in various fields of skating. When I was 17, as the first member of the national team in the speed skating, I participated in the Asian cup. After those, I selected inline hockey as my first field of practicing. When I was 24, as a member of the first national inline hockey team, I played in the Asian cup. I experienced many Asian and world tournaments as a player during these years. In 2008, as a player and head coach of the national team, I did my duty at the World Cup in Germany. The best place that our team has been received is the second rank of the Asian cup under my supervision in 2010. I managed to build the first covered rink of inline hockey in Iran. I received some awards from the president and was selected as an elite in the sports industry. Now I am the head of the ice skating committee of Iran.
SE) Little is known about hockey in Iran, can you tell us what the current state of hockey is there and something about its history?  
KS) We started roller hockey at first by using quad shoes. After 1995, with a little bit of knowledge, we started to play with inline skates and we got better every year. After nine years, in 2004, the federation started to work and, recently, three un-standard ice rinks were built, and we already have 2 inline rinks in 2 different cities . Hopefully participating in tournaments and gaining experience will help us improve even more. 
SE) Is hockey shown on television there?  
KS) Yes, our public TV (everyone has a free access to it) shows ice hockey matches. For example, approximately all the World Championship matches in Russia (were presented by a) Iranian commentator. This program has increased the number of ice skating fans in Iran. Some of our international tournaments in inline hockey, like the Middle East inline hockey tournament, were shown "live" on the sports channel, which is one the most viewed.
SE) Training camp for the team's first ever tournament entry is coming up. Could you give some information on the background of the players that are going? (Where they played, ex-pats, etc.)  
KS) As you said, we are heading to have our first ice hockey camp in Asiago, Italy to get ready for the winter games. We are also practicing for the inline Hockey world championship. We are going to use both members of the national inline hockey team and other talented Iranian ice hockey players around the world who were born or raised outside of the country (some of them right now are playing in USA, Malaysia, and Europe) to make a strong ice hockey team. The number of them is not clear yet, and we are working on that. But some of them are well known like Mika Zibanejad, who plays in the NHL with Ottawa. We are trying to contact him and use his knowledge and experience since he already played for Sweden National team. We have some other players also outside of the country who are playing for colleges and universities and will join us during the camp.
SE) Is there a league of some sort there?  
KS) For both male and female, we have the inline hockey premier league. We have a standard stadium (rink) with 12,000 seats which, unfortunately, other sports with a higher number of fans (like volleyball, and futsal) usually use it. But this year, to prepare our national ice hockey team two months before the winter games in Japan, we can use the rink as mentioned. This rink has the standard of Olympic stadiums (which the IIHF requires). During that time, we will have both the inline hockey league and ice hockey matches around our country. 
SE) How did Iran get involved with the Asian Winter Games?  
KS) Two years ago, the Iranian national teams participated in the Asian and Olympic winter games in Sochi. As you probably know, Iran has the best results for skiing in the Middle East and even in the world. Therefore, we are quite familiar with winter games, and various Iranian teams will be participating in the winter games in Japan. This would be a historical and an important phenomenon for ice hockey in Iran where, for the first time, we will be recognized internationally.  
SE) What are the expectations for that tournament?  
KS) We do not have any specific expectation, we are mostly looking for a historical experience and we hope it would be an honorable one as well. Our team will be a well-organized team with a high physical performance. But for sure, we should not forget that it will be our first experience. Taking all that into consideration, Iranian people genetically and historically are good in sports, so whatever happens during the games, we won't the last team at the table
SE) The Challenge Cup of Asia is quickly becoming a bigger development tournament. Will we see Iran there in the near future?
KS) Of course. We will participate in any future events. 
SE) Where is the funding coming from for the team?  
KS) In Iran, all costs have been paid by federations. They have received their budgets from the ministry of sport and youth or the national Olympic committee. The skate federation has a limited budget, which for sure is not enough. Other fields like soccer and wrestling have many fans and will receive much more funding. However, we will receive some support from public, and industries which besides of the federation budget can manage our teams. 
SE) How long did it take to put a program together?  
More than 20 years. Many things have been done and our players are quite good physically. They are perfect in balancing and stick handling. Right now they are practicing ice hockey and progressively are getting better. They just need to experience the reality to see how IIHF referees work during a real game. To participate in the winter games, we started our plans 6 months ago. We have a one year plan, and we hope to receive our minimums in the plan during this year. 
SE) What needs to be done to help promote the game of hockey over there?  
KS) The biggest thing that could happen for us is the collaboration between the international federation with our federation, which for sure would lead to the development of our field. This collaboration works could also lead to the construction of ice rinks and production of tools for those ice rinks. If we find some interests from big companies which are active in the production of ice skating technologies and construction of rinks. We are ready to conduct and build some standard Ice rinks around of Iran and we provide a very tempting situation for the investment in these areas in Iran. We are interested to shake foreigner investors hands for beneficial investments. 
SE) Where do you see the program in five years?  
KS) Sports and activities are necessary for the health and sports in Iran are one of the main hobbies. Investment in this area is so progressive. If you look to other fields like wrestling, volleyball, taekwondo and other sports, Iran are among the best in the world. In the Asian Olympics, we are between the four top ranks and this indicates that Iran is a good place for the development of sports and we hope with the collaboration of the international federation, and also help of our federation and the Olympic committee through the next five years, we can hit the position between the four top teams of Asia. 
SE) Anything else you would like to get across?
KS) We hope to make a very productive collaboration between the International Ice and Inline Hockey Federation with our federation and use hundreds of years experience of those countries. We have some sponsors which can assist us to have camps in Kyrgyzstan and Emirates if their federations accept.  And because our sponsors support us for the transportation and accommodation, we just need to have a relationship with their federations to build a rink and arrange our camps. And by this way, we can make our team ready for the Asian winter games.
https://telegram.me/iranhockey
http://instagram.com/iran_ice_inline_hockey_team
https://twitter.com/iranhockey

http://www.aparat.com/Irannationalhockey
Current events
External links

Czech Rep.: Tipsport extraliga | 1.liga | 2.liga

Slovakia: Tipsport Extraliga | 1.liga

Sweden: SHL | HockeyAllsvenskan
Other: EBEL | Belarus | Croatia | Denmark | Estonia | France | Great Britain | Iceland | Italy | Latvia | Lithuania | MOL-liga | Norway | Poland | Romania | Serbia | Slovenia | Spain | NHL | AHL |
League standings
Game fixtures
League leaders
Full analysis of the last 10 seasons of the Ukrainian ice hockey championships Read more»
Full analysis of the last 10 seasons of the Ukrainian ice hockey championships Read more»