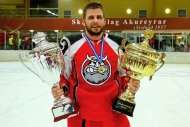 Siggi the Conqueror
20 titles in 25 years of career and the story will continue: Eurohockey meet Sigurdur "Siggi" Sveinn Sigurdsson, one of the most successful players in the history of hockey
The night of his 40th birthday, last day 23 of February,
Sigurdur "Siggi" Sveinn Sigurdsson
received a special gift: his team
SA Akureyri
won
6-3
game #3 of playoffs finals against ESJA securing the 19th title in
Icelandic League
, the fourth consecutive for the team, the 20th in 25 seasons for the forward, one of the most successful athlete in the history of Icelandic sport. Sigurdsson won 18 titles with SA, meaning he was on ice in all titles won by club since its creation except one, and 2 with arch-rivals of
SR Reykjavik.
Eurohockey met
Siggi
, as he is known, to understand the secret of his amazing career:
Eurohockey: You just won your title number 20 in 25 years of career, an incredible record, probably almost unique in the world of sport, not only in Iceland:how did you do it and what's your secret?
Mr. Sigurdsson: I´m from a town in north of Iceland, Akureyri, which is the hometown of hockey in Iceland. We have a strong hockey tradition, a support from the community and good people around the club. I consider myself lucky to be a part of this program. When the league was started in 1991, my club in Akureyri (Skautafélag Akureyrar) was for sure the strongest club in Iceland and won the first 7 years in a row. Then I moved to Reykjavík for school for two years and those years my club that I was playing for in Reykjavík (Skautafélag Reykjavíkur) won the championship both years. Then I moved back to Akureyri and won the championship for next 5 years. So in 2004 I had won 13 championships, every single one from the beginning of the league. Then I decided to do something different so I got some friends together and we started a new team in the league – Narfi from Hrísey. We ran that team for two years – it was nice to do something new, but no titles. After that I went back to SA, winning 7 more titles in last 10 years. The secret; Good teammates, coaches and program – and lots and lots of training and percistance.
Eurohockey: Many athletes say the best victory is always the last or the next: and for you? But is there a title among these 20 that you're most fond of?

Mr. Sigurdsson: I think the most memorable is our first championship after we got our new ice rink in Akureyri in 2000 - 2001. Before that we played out doors. We won Björninn from Reykjavík in game 5 of the finals in front of home crowd after loosing first two games of the series.
Eurohockey: how has the hockey changed in Iceland over the past 25 years?

Mr. Sigurdsson: The level is getting better every year. The biggest change is of course in the facilities. We only played outdoors until the first indoor ice came in Reykjavík in 1998, than we got our new rink in 2000 and then the 3rd in Reykjavík in 2002. Now we have 4 competitive teams both in men and women and our national team program is getting bigger and better every year.
Eurohockey: who is the strongest player you played with (and against) in your career?
Mr. Sigurdsson: It´s hard to pick some players after 25 years. But the most memorable is probably the first import player and a coach who came over here in 1991, Pekka Santanen from Finland – we had never seen a player like that here in Iceland before. The one who has probably given me the hardest times through the years on the ice is probably the Russian Sergei Zak who played and coached Björninn for more than 10 years.
Eurohockey: you never played outside your country, a choice or simply lack of opportunities?
Mr. Sigurdsson: That was really not an option when I was younger, for example I was 22 years old when I finally got to play indoor and 24 years old when that dream came true in my home town.
Eurohockey: what did icehockey mean for you in these years and there will be icehockey also in your future?
Mr. Sigurdsson: Ice hockey meant everything to me. I couldn´t wait for the ponds to freeze which many times ended with a cold and icy trip through too thin ice. After we got the ice ready at the outdoor rink I got obsessed with the weather, always hoping it wouldn´t snow so we could have good practice on good ice. After those 25 years in the league, what stands out is the friendship, the laughter and chirping in the locker room. I will play as long as I can and my three kids are all in hockey now so yes – there is a lot of hockey in my future – thanks to the hockey gods.

Czech Rep.: Tipsport extraliga | 1.liga | 2.liga

Slovakia: Tipsport Extraliga | 1.liga

Sweden: SHL | HockeyAllsvenskan
Other: EBEL | Belarus | Croatia | Denmark | Estonia | France | Great Britain | Iceland | Italy | Latvia | Lithuania | MOL-liga | Norway | Poland | Romania | Serbia | Slovenia | Spain | NHL | AHL |
League standings
Game fixtures
League leaders
Gary Graham parted ways with EIHL side Nottingham Panthers this morning. Read more»
With a 5-2 win for Cardiff and 4-1 win for Angers they will take their place in the Superfinal. Read more»