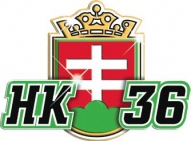 HK 36 Skalica withdrew from Extraliga
Hockey is over in Skalica: one of traditional Slovak clubs is forced to leave Extraliga due to lack of funds
HK 36 Skalica, one of traditional clubs of Slovakian Extraliga, won't finish the season, after the Board announced the impossibility to play against MHC Martin for Extraliga round 47th due to lack of funds and the exodus of players before the end of transfer window. It would be the third waiver for the club during the season, so Skalica will be automatically expelled from the League, according to the Competition Rules

"Despite all the efforts to securing funds to complete the season 2015/2016, we were unable to provide enough players of adequate quality. Currently the roster is largely incomplete because of the departure of key players to other clubs" says the official statement published on club website.
"We would like to thank all the sponsors, our amazing supporters and every fan of hockey in Skalica for everything they made for our club during the past seasons. The future of the club will be decided during next general meeting"
"We are very sorry that a club is forced to leave the competition during the season - commented Pro-Hokej Director Richard Lintner in a press release - " but we have to be applied rigidly the Tournament rules, which is essential to continue to ensure the development and the stability of Extraliga. We are now looking forward to welcome next year in our Extraliga family at least one club from the 1. Liga, full of great determination, enthusiasm and new energy"
Pro-Hokej announced the finalist of 1.Liga playoffs will play a promotion/relegation series with the team finished ninth in Extraliga to eventually secure another spot for a new team in next Extraliga
HK 36 Skalica ends abruptly a 19-years-long journey began in 1996/1997 when team was promoted for the first time in Extraliga, with the best result achieved in 2008-09 when the team, with a roster full of stars as Richard Hartmann, Juraj Mikus, Rene Skoliak, Miroslav Zalesak and of course legendary Ziggy Pallfy , today Honorary President of Junior section of the club, who scored and astonishing 99 points during regular season, climbed until final before to succumb to Kosice.
After the withdrawal of Skalica, all clubs have the points gained against the former club deducted in the standing

Current events
External links

Czech Rep.: Tipsport extraliga | 1.liga | 2.liga

Slovakia: Tipsport Extraliga | 1.liga

Sweden: SHL | HockeyAllsvenskan
Other: EBEL | Belarus | Croatia | Denmark | Estonia | France | Great Britain | Iceland | Italy | Latvia | Lithuania | MOL-liga | Norway | Poland | Romania | Serbia | Slovenia | Spain | NHL | AHL |
League standings
Game fixtures
League leaders
A look back at a season that lived up to its promise. Read more»
The Alliance of European Hockey Clubs (E.H.C.) has announced the nominees for the 2023 Fenix Outdoor & Warrior European Hockey Awards. Read more»