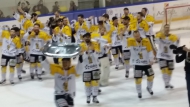 Le plat est servi !
Rouen completes a perfect weekend crashing Herning and bring back to Seine the silver plate of Continental Cup
A sold-out Ile Lacroix celebrates the second European trophy won by Dragons in 4 years and will prepare the gala dress to host the games from CHL from next season. If the Continental Cup won in 2012 was a real miracle on ice, beating the super favourite Donbass Donetsk in the last minutes of last games, this season Rouen confirms the initial favouritism, even if the campaign in the Superfinals wasn't a bed of roses and the Dragons toils for the silver plate. Credit to all three teams present in the finals, one of most hard-fought. Also in the last game Herning wasn't on the ice as sparring partner, and fight until the end to rain on French parade. Pushed by the fans, Dragons start sieging the Danish cage, with a great chance for Marc Andre Thinel after one minute: his surefire shot smashes on the pads of Daniel Nielsen. It's a warning for Herning: in one minute Rouen scores twice: with Damien Raux deflecting a pass from Koudys and Jason Krog on Mark Matheson pass. Herning tries to give Sabourin some work but the Danish forwards are inaccurate and well controlled by the French defense. Danish team begins better then opponents also the central period until the first power play, once again fatal: gradually Rouen comes closer Nielsen cage, until the last bite, with Thinel, infallible from that position. One minute later Rouen has also a goal disallowed, scored by Yorick Treille with the skate. Thinel wastes the chance for fourth goal at 29 shooting on Nielsen after a brilliant pass from Lamperier. Herning has the best chance in the last minute of period, when Frank shots on Sabourin a good pass. The last 20 minutes are a long wait for the final celebration, already begun on stands. With 5 minute to play Loic Lamperier receives a major penalty for checking to the head, combined with another penalty allow Herning to pull the goalie and plays six versus three. A controversial goal scored with the cage moved was disallowed causing the protest of Herning bench and the removal of coach Simioni. Bravely and for the ecstasy of fans Rouen survives to the penalties and finds the empty net goal with captain and MVP Patrick Coulombe for the deserved triumph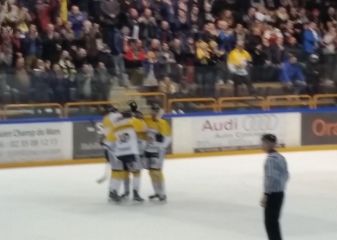 Captain Patrick Coulombe scored the fourth empty-net goal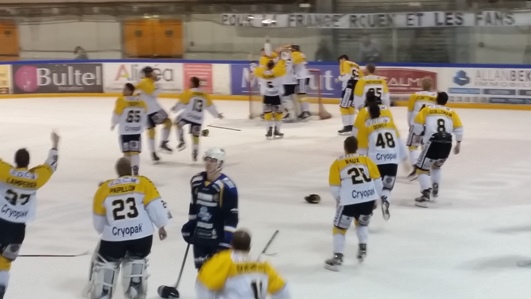 Game is over!

MVP: Daniel Nielsen – Patrick Coulombe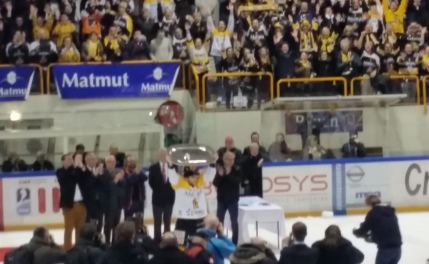 Patrick Coulombe raises the silver plate

Tournament Best Players
Best Goaltender: Simon Nielsen (Herning)
Best Defender: Patrick Coulombe (Rouen)
Best Forward: Marc-Andrè Thinel
Current events
External links

Czech Rep.: Tipsport extraliga | 1.liga | 2.liga

Slovakia: Tipsport Extraliga | 1.liga

Sweden: SHL | HockeyAllsvenskan
Other: EBEL | Belarus | Croatia | Denmark | Estonia | France | Great Britain | Iceland | Italy | Latvia | Lithuania | MOL-liga | Norway | Poland | Romania | Serbia | Slovenia | Spain | NHL | AHL |
League standings
Game fixtures
League leaders
Season is set to begin on September 1, 2021. Admiral Vladivostok should come back Read more»
Men's ice hockey World Championships 2021 are only few weeks away so we at Eurohockey.com dived into it and explored what to expect from the tournament. Read more»