The wandering goalie
In this season Danish goalie Anders Jespersen played in Denmark, Iceland, Estonia, Turkey and is now in New Zealand. "It's great to be around the world and get new experiences." said in this exclusive interview for Eurohockey.com
Danish goalie Anders Jespersen is just 22 years old, but traveled the world more than many others doing what he most likes: plays and teaches hockey. In this exclusive interview Anders tell us a little bit about his uncommon experience

Eurohockey: Anders, the first question is the most obvious: what happened this season? You left your native Denmark to play in Iceland, then a short stint in Estonia, then Turkey and now a giant leap to New Zealand...Just a coincidence or a plan?

Anders Jespersen: This was definitely my most travelling season. I signed a contract with Vikingar in Iceland, but there were few problems in the board, so I decided to leave after 2 months. I went home to Denmark, at IK Aarhus. They had an injured goalie, so I decided to go and help this team, because I haved some friends in this team, that I know from the national team ( U18 – U20 ). I made it clear, that I just decided to stay there a shot time, because 1. Division in Denmark is fully amateur. After my short stay in Aarhus, I had a small holiday in Turkey, before I decided to go to Estonia. I got a good offer from Viru Sputnik Kohtla Jarve, and everything was great. I arrived to Estonia, and went to a hotel, and the day after I went to the club by bus. The first few weeks were good, I got my apartment and my food as agreed. But I never got my salary, so I decided to leave Estonia. In my time in Estonia B.B. Ankara showed great interest in me and really wanted to sign me, because if they should have an import goalie in the team, he should arrive and play the Super Lig games in first weekend in January. After that weekend, it was impossible to transfer new players. So I went home for Christmas, and everything was really fast. I went to the embassy the 03 of January, to get my visa. ( My plane was 18.00 in the evening ). But unfortunately I missed my plane, so I got another plane at 20.15. I went to Stockholm – Istanbul – Ankara. So I arrived January 04. January in the morning, and went directly to Turkish Ice Hockey Federation and Police station to make all paper done, so I could play the 06 January. After my stay in B.B. Ankara, I got an amazing offer from Admirals Auckland, so I decided to go here to help development young goalies and get good life experience. There was no plan – Everything was just coincidence.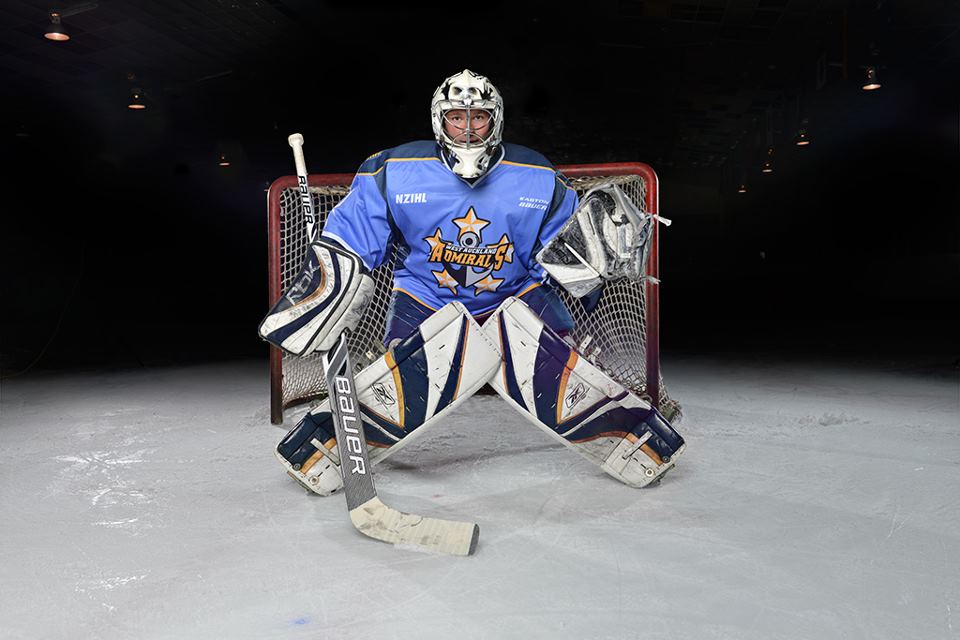 Jespersen with West Auckland jersey, his current team

EH: Iceland, Estonia, Turkey...You didn't choose exactly Meccas of icehockey.....why?
AJ: Yes, I was prepared to play in some countries, where the hockey isn´t popular, because I want to help these countries to delveopment the icehockey, and help to development the goalies. I feel really good, when I am helping some goalies to improve themself. Maybe in the future, I want to go to some countries where the hockey is popular - But you never know what happens in the future.
EH:
In the eyes of hockey, which was the best experience? And from a human view?
AJ: Actually I had many good hockey experiences. I have been in many different clubs, and meet a lot of different hockey players. I have something good from all clubs. In Iceland everyone was so friendly and the country was beautiful. In Estonia the ice hockey was pretty good, and I learned a lot there. I have been in Turkey twice (Ankara University and B.B Ankara), and I really love the Turkish culture. I feel relax when I am there. From a human view, I learned a lot about their culture. I have just been here in New Zealand for few weeks, but it looks pretty good – Many nice people around the rink and Auckland is a really nice city. I live close to the city, and I have been walking a lot here in the mornings. I got a car few days ago, so I am sure, that I will have a long drive, when I have some days off from ice hockey.
EH: You worked also as goalies' coach; can you describe the level of hockey in the countries you played and its popularity?
AJ: Yes – I have been working as goalie coach. The level in Iceland is similar to the best teams in Danish 1. Division. In Estonia there are some really good goalies in the league. Some of these goalies is around Federal Hockey League level, if I compare to overseas. Turkey is the most interesting country, because there are a big differences between the best and worst teams in the league.
EH: Do you plan to go back in Denmark for trying to play there at high level or you'll continue to travel the world?
AJ: I had in my mind that it could be nice to go back to Denmark to play there at high level. But to be honest, I really love to travel around the world. I meet so many new people, and got so many great experiences, that I probably can use in my future. Most of the teams in Denmark pick up imports goalie every season, and to be honest, I am really not that much interested to be a back up goalie in Denmark – So it is much better to be around the world and get new experience. I'm looking for a team for next season right now, where? It doesn't matter!

Current events
External links

Czech Rep.: Tipsport extraliga | 1.liga | 2.liga

Slovakia: Tipsport Extraliga | 1.liga

Sweden: SHL | HockeyAllsvenskan
Other: EBEL | Belarus | Croatia | Denmark | Estonia | France | Great Britain | Iceland | Italy | Latvia | Lithuania | MOL-liga | Norway | Poland | Romania | Serbia | Slovenia | Spain | NHL | AHL |
League standings
Game fixtures
League leaders
After a 4-years hiatus, a Kazakh club could be back in Russian Second League Read more»
In late Spring, 2023, the International Ice Hockey Federation will host the 86th Men's Ice Hockey World Championships. The competition is easily global ice hockey's biggest event, with hundreds of thousands of fans traveling for each world championship finals event. ... Read more»