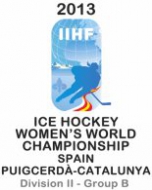 2013 Women's Div. II Group B Day 3
Korea remains unbeaten, Croatia slips by Belgium, Spain skates all over South Africa
Croatia vs Belgium 2-1 OT
Despite Croatia more than doubling Belgium on shots, Schonwetter kept her team in the game and forced it to overtime. Croatia's first goal came from Kadijevic half-way through the first. Despite numerous powerplay chances they were unable to generate anymore offence though. Belgium finally managed a single goal mid-way through the third period off de Decker's shot. In over time Filipec added to her goal tally for the tournament with an unassisted marker giving the Croatians the victory. Good goaltending is keeping the games close, but Belgium needs to find a way to generate more shots and offence.

South Korea vs Iceland 4-1
Last year, the tournament was held in Korea. Korea didn't do great on home ice. They finished middle of the pack with only 3 wins and 9 points. This year, they've matched their point tally from last year, and with two games to go, look well in control to sweep the tournament. Iceland got on the board first in this contest, on a powerplay goal from Ingadottir. This time Korea decided to start scoring before the third period though. Ahn tied up the game a few minutes later at equal strength. In the second Ko and Park added goals for Korea putting the team up 3-1. In the third, Korea changed their goaltender with only a few minutes to go, and Lee added another goal in the final 2 minutes to dash any hopes the Icelanders may have had.

Spain vs South Africa 12-1
This year the women's side has added a qualification round for group B. Last year, despite being thoroughly beaten, South Africa was able to remain in Group B. It is likely that this year they will be relegated to the qualification round. Turkey has already been promoted to for next year, so the qualification round may include South Africa, Bulgaria and Ireland next year, if no other teams join/leave the tournament. Spain was all over South Africa, outshooting them 41-17. Getting goals from Gurrea (2), Hernandez, Merino (3), Ucedo, Sierra, Ruiz, de la Pompa (2), and Abrisqueta. South Africa's lone goal came from Schuurman. With just over 4 minutes to go, Gonzalez of Spain and Rhode for South Africa each received double minors for roughing.

Current events
External links

Czech Rep.: Tipsport extraliga | 1.liga | 2.liga

Slovakia: Tipsport Extraliga | 1.liga

Sweden: SHL | HockeyAllsvenskan
Other: EBEL | Belarus | Croatia | Denmark | Estonia | France | Great Britain | Iceland | Italy | Latvia | Lithuania | MOL-liga | Norway | Poland | Romania | Serbia | Slovenia | Spain | NHL | AHL |
League standings
Game fixtures
League leaders
Home loss for the 2021 champion on the opening day of the Swedish league. Read more»
The SC Bern defender Beat Gerber played his 1168th NL game on Friday. Read more»