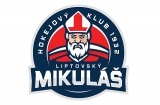 MHK 32 Liptovsky Mikulas
Short name: L. Mikulás
Year of foundation: 1932
Colours: blue, red, white
Club status: active
Address: Partizánov 14,
031 01 Liptovský Mikuláš
Phone: +421 445 524 345
Fax: +421 445 521 738
Email: sekretariat@mhk32lm.sk
WWW: HK Liptovský Mikulás
Did you find any incorrect or incomplete information? Please, let us know.
Season 2023-2024
Current roster
season 2023-2024
* no longer in the club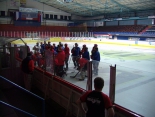 Adress: Partizánov 14
031 01 Liptovský Mikuláš
Phone: +421/44 562 14 49
Email: sportoviska@vpslm.sk
Capacity: 3650
Opened in: 1967
Notable players:

from 1932 to 1939: Sokol Liptovsky Mikulas
from 1939 to 1942: HG Liptovsky Mikulas
from 1942 to 1949: SK Liptovsky Mikulas
from 1949 to 1957: SP Liptovsky Mikulas
from 1957 to 1969: Iskra Liptovsky Mikulas
from 1969 to 1990: SP Liptovsky Mikulas
from 1990 to 2010: HK 32 Liptovsky Mikulas
from 2010 to present: MHK 32 Liptovsky Mikulas
from 2000 to 2019: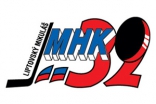 from 2019 to 2021: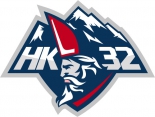 from 2021 to present: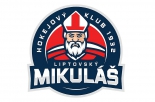 MHC Martin forced to postpone games
MHC Martin was forced to postpone the Extraliga games against Zilina and Liptovsky Mikulas scheduled for Friday and Sunday due to a infectious viral illness.
"Unfortunately, one of our players was diagnoed with an infectious viral disease and was quarantined" - said the club in a spress release. Since in this case must be carried out tests on all those who were in close contact with the patient, and make the necessary vaccinations, we were forced to cancel the trainings and of course the games." Team should be back on ice on October 28 for the game against Nitra
(23 Oct 2016)
10 clubs approved in next Slovak Extraliga
The Executive Committee of Slovak Ice Hockey Federation has granted ten licenses for for the upcoming Extraliga confirming also the partecipation of Slovakia  U20
As expected, ŠHK 37 Piestany have given up license due to financial difficulties and was replaced by MHK 32 Liptovský Mikuláš, back in Extraliga after seven seasons. HK Nove Zamky, winner of I Liga is the another newcomer
"I consider the return of Liptovský Mikuláš as very positive. It will bring the enthusiasm and the energy of a traditional hockey area. Finally, we consider this another step towards full economic stabilization of our top hockey league" commented the CEO of Pro-Hockey Richard Lintner.
(18 Aug 2016)
Historic rosters:
Historic statistics:
Past results:
League standings:
Fast facts
season 2023-2024
Kaunas City celebrate the qualification to the second round of Continental Cup with a ten-goals victory over Skautafelag Rejkyavik Read more»
Estonian champion wins KHL Zagreb ensuring first place for the home team Read more»