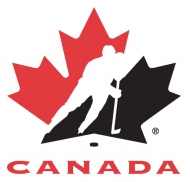 Canada golden in overtime victory over USA
While their male counterparts couldn't solve the Americans, the U18 Canadian women's team came from behind to beat them and clinch their third gold medal at the IIHF U18 Women's World Championship.
The first period was all USA as they unleashed 20 shots on Canada's Kimberly Newell (Princeton University, NCAA) while the Canadians only managed one on Sidney Peters (North American Hockey Academy, JWHL). Canada found themselves in penalty trouble taking three stick infractions in the first period. The American's capitalized on one of their power play's as Jennifer Ryan (North American Hockey Academy, JWHL) beat Newell with a low shot.
Thanks to Newell, Canada was able to hold off the US and respond with 10 shots to the Americans nine in the second period. It looked as though the US was about to win the gold but Canada pulled Newell for the extra attacker with one minute left in the third and destiny took over. With only 13 seconds left, Catherine Dubois (Limoilou Titans, RSEQ) beat Peters to send the game in overtime.
Canada didn't require much extra time to reach their goal of winning back-to-back golds. 58 seconds into overtime, Hanna Bunton (Whitby Wolves, PWHL) fed a pass to Karly Heffernan (Edge School, JWHL) and she quickly let a shot off that beat Peters, securing gold for Canada.
In the six years of this tournament, Canada and the US have won three gold medals.
Sweden defeats Czech Republic to win 4th bronze
In the bronze medal game, Sweden captured their fourth bronze medal in the six year old IIHF U18 Women's World Championship.
Sweden quickly took control of the first period scoring two goals within the first four minutes of the game. Those early goals from Linnea Hedin (AIK Stockholm) and Isabell Palm (MODO) forced the Czech coaches to make a goaltender change putting in Klara Peslarova (SK Karvina). The Czech's generated a substantial amount of chances that eventually had them finish outshooting the Swedes 43-32. But despite getting the puck to the net, they couldn't break the fortress built by Minatsu Murase (AIK Stockholm).
Before the end of the first period, Sweden's Malin Hoglund (Segeltorps IF) registered her first goal of the tournament giving her team a 3-0 lead. Michelle Lowenhielm (AIK Stockholm) made the score 4-0 in the second, and that would be the final score giving Sweden their fourth bronze medal.
Other Notes
Probably the biggest news out of the tournament was the Hungarian squad solidifying their spot in the elite division finishing sixth out of eight. Last year the Hungarian's won qualification along with Great Britain to Division 1 and then won the Division 1 tournament and subsequent promotion to this years elite division.

Russia and Germany played each other in the best-of-three relegation round with Russia winning the series 2-0. Russia secures their position in the elite division while Germany is relegated to Division 1.

Tournament Awards
Best Goalkeeper: Minatsu Murase (Sweden)
Best Defenseman: Halli Krzyzaniak (Canada)
Best Forward: Katherine Schipper (USA)


Final Rankings
1. Canada
2. USA
3. Sweden
4. Czech Republic
5. Finland
6. Hungary
7. Russia
8. Germany (relegated to Division 1)
Current events
External links

Czech Rep.: Tipsport extraliga | 1.liga | 2.liga

Slovakia: Tipsport Extraliga | 1.liga

Sweden: SHL | HockeyAllsvenskan
Other: EBEL | Belarus | Croatia | Denmark | Estonia | France | Great Britain | Iceland | Italy | Latvia | Lithuania | MOL-liga | Norway | Poland | Romania | Serbia | Slovenia | Spain | NHL | AHL |
League standings
Game fixtures
League leaders
IIHF President expressed a clear position on the situation in Ukrainian hockey during a meeting with the Federation Read more»
Ted Brithen scored three goals when Rögle beat another Swedish team, Frölunda, in the first of two games in the Champions Hockey League semi finals. Red Bull München and Tappare were supposed to play in Münich but that game was canceled ... Read more»