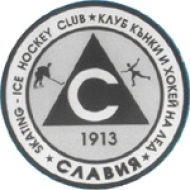 Slavia Sofia pulled out of the Bulgaria League
Current champion abandons League to protest against Federation
Slavia Sofia
pulled out of the
Bulgarian League
due to referee and Bulgarian Ice Hockey Federation malfeasance and ineptness. Last week Slavia played against
NSA Sofia
at Slavia Ice Palace and won
7-3
in its league's debut During the game a number of fights broke out. One NSA player broke a stick over the head of a Slavia player in the NSA zone. Another player chased a Slavia player around the rink breaking free of the referees and attempting to fight the player. This caused not a little mayhem as players from NSA jumped from their bench over the boards and skated to the Slavia bench. NSA players started throwing punches at the Slavia players now standing in their bench area. One NSA player even jumped into the bench area and without provocation and hit one player more than 16 times, defying security. The referees simply lost control and could not contain the craziness.
This game was reminiscent of a game four or five years ago with Akademika. Many of the same players were involved. This time, however, NSA was given only three suspensions. Two men received two game suspensions and one, the one who jumped the boards and mercilessly beat on a Slavia player who did not fight back, received only a one game suspension.
Due to the inability of the Bulgarian Ice Hockey Federation to adequately discipline and because Slavia cannot assure the safety of its players to their families, Slavia decided to pull out completely from the championship. Slavia, having beaten NSA in the game leaves the championship with a 1-0 record.
Current events
External links

Czech Rep.: Tipsport extraliga | 1.liga | 2.liga

Slovakia: Tipsport Extraliga | 1.liga

Sweden: SHL | HockeyAllsvenskan
Other: EBEL | Belarus | Croatia | Denmark | Estonia | France | Great Britain | Iceland | Italy | Latvia | Lithuania | MOL-liga | Norway | Poland | Romania | Serbia | Slovenia | Spain | NHL | AHL |
League standings
Game fixtures
League leaders
Full analysis of the last 10 seasons of the Ukrainian ice hockey championships Read more»
Full analysis of the last 10 seasons of the Ukrainian ice hockey championships Read more»