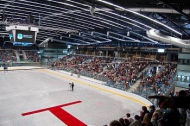 Who is guilty of unsportsmanlike conduct in CZE 1.liga?
A player receives a match penalty for unsportsmanlike conduct: assaulting a referee. It's an offense that is unacceptable and must be punished severely. But Miroslav Třetina is cautioning everybody that everything is not as it seems.
Třetina, a player for Czech 1.liga club HC Slovan Ústí nad Labem, did not finish his club's fourth game of the season in Chomutov and his team had to play shorthanded for seven minutes.
According to the report by referee Jiří Florián, Třetina fouled David Hruška (2 minutes for slashing) and after then attacked Florián (match penalty). According to Třetina, he was trying to go around Florián, but lightly grazed the referee as he skated by.
It is not easy to distinguish the truth because the whole incident took place just after Hruška scored a goal for Chomutov, and the arena's lights were dimmed for a few seconds.
Maybe you think that it is easier to believe to Florián's version, but there is another interesting fact: there was an incident between the two men in the past. Hruška is also a ball hockey player and Florián is a ball hockey referee as well. A few years ago, there was a confrontation between the two on the ball hockey floor and they almost got into a fight.
"Florián has been prejudiced against me since then. He never calls anything that happens to me and he punishes me every chance he gets. This was a proof," Třetina said. "If he can't separate ball hockey from ice hockey, then he is not a professional and he shouldn't be reffing this league."
Třetina admitted that he originally wanted to say something to Florián on the ice after the goal by Hruška, but he changed his mind and turned away, but he wasn't able to change direction in time to avoid grazing Florián. "It would be nice if it was recorded on video, but I'm afraid it won't be visible because it was dark in the arena," Třetian said.
What is Florián's response? Nothing, except for a message stating that he is not allowed to comment on it.
And what is your opinion? Who is guilty of unsportsmanlike conduct? Florián or Třetina? Let's discuss it under the article, in our discussion forum or in a related
IHF
topic.

Czech Rep.: Tipsport extraliga | 1.liga | 2.liga

Slovakia: Tipsport Extraliga | 1.liga

Sweden: SHL | HockeyAllsvenskan
Other: EBEL | Belarus | Croatia | Denmark | Estonia | France | Great Britain | Iceland | Italy | Latvia | Lithuania | MOL-liga | Norway | Poland | Romania | Serbia | Slovenia | Spain | NHL | AHL |
League standings
Game fixtures
League leaders
Glasgow Clan of the British Elite League (EIHL) have terminated the contract of their Chief Executive. Read more»
At its first ever partecipation, Croatian team finished with a perfect record the Continental Cup Group A Read more»