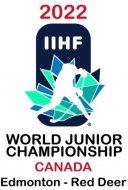 World Juniors cancelled
After three cancelled games due to covid cases in the teams of USA, Czech Republic and Russia the tournament has now been cancelled by the IIHF.
Four cases of Covid-19 was all it took to stop the tournament after only nine games had been played of the World Junior Championship in Canada.
According to a statement by the IIHF the tournament was cancelled after a recommendation by the tournament Covid-19 medical grouo and the IIHF Medical Committee to ensure the health and safety of all participants.
The hard Covid-rules in the state of Alberta where the event was held also made teams forced to forfeit games event if just one player tested positive for Covid-19. And with confirmed cases in three teams and maybe more to come this made it impossible to the keep the sportive integrity of the tournament.
Team Sweden's players was disappointed that tournament was cancelled and told the Swedish newspaper Aftonbladet that it was problems with "bubble". "Already when we came to the hotel you were thinking, "what the hell is this" ",Simon Edvinsson said.
"If feels extra bad since we haven't done anything wrong. We had something good going with this team...I really think we would have played Canada in the final", Åke Stakkestad told Aftonbladet and added "It has barely been a bubble at the hotel. We as a team hasn't been allowed to do much and mostly been on our rooms but there has been people running in and out of the hotel. There are even hair salons on the hotel that have been used. So it has definetly not been a bubble."
Considering the hard Covid-19 rules in Alberta and that the teams was not placed in a real bubble you could ask if it was really a wise decision to start the tournament when it only took four confirmed cases to cancel it.
The IIHF has opened to restart the tournament after the World Championship that is due to be played in May. The future will tell us if this will be possible or not.
Current events
External links

Czech Rep.: Tipsport extraliga | 1.liga | 2.liga

Slovakia: Tipsport Extraliga | 1.liga

Sweden: SHL | HockeyAllsvenskan
Other: EBEL | Belarus | Croatia | Denmark | Estonia | France | Great Britain | Iceland | Italy | Latvia | Lithuania | MOL-liga | Norway | Poland | Romania | Serbia | Slovenia | Spain | NHL | AHL |
League standings
Game fixtures
League leaders
After three-years-hiatus, the Asia League was back and Korean team add another title Read more»
In late Spring, 2023, the International Ice Hockey Federation will host the 86th Men's Ice Hockey World Championships. The competition is easily global ice hockey's biggest event, with hundreds of thousands of fans traveling for each world championship finals event. ... Read more»