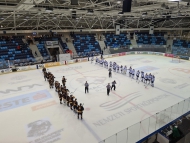 Pujacs gives first points for Olimp Riga
With a brilliant second period Latvian champion secure the first victory in Budapest with an hattrick from veteran defender
Sokil Kyiv and Olimp Riga close the first day of Continental Cup in Riga playing a game with "Russian flavour": quick passes and high speed on the ice. The Latvian champion, with a very experienced roster with veterans like Georgi Pujacs, Edijs Brahmanis, Mikelis Redlihs find a good opposition from the revamped historical Sokil Kyiv, now under the name of junior department, lead by former national team (and historical Sokil) Oleg Shafarenko on the bench and veteran Andri Mikhov on the ice, with a good number of Russian players in the roster.
In the first period Olimp has the best chances, even if the game doesn't offer special emotions, until the last seconds: with just two seconds left, Olimp opens the score on power play with Georgi Pujacs, left wide open by Ukranian defence.
The central period opens with Olimp still in the control, finding the second goal after 6 minutes with a tap-in by Krists Apsitis after a shot from Nikita Priede. Two minutes after Gatis Sprukts has the chance to virtually close the game but his powerful shot hits the crossbar. Its up to Georgi Pujacs with a precise shot from the blue to increase again the score on power play. Coach Shafarenko changes the goalie, with Dmitri Kubrytsky replacing starting Artur Ohandzanian. Sokil has two great chances at minutes 32 when Letov steals a puck during a power play but shot on Bonch-Bruevich and one minutes after when Smirnov isn't ready to deflect a pass with cage wide open. Thus, is again Pujacs to find the net with a beautiful shot from the blue at the end of superiority. Finally Ukrainian team open the score with Andri Mikhnov.
Sokil dominates the last period, creating a lot of chances, hit a post with a shot by Vasiliev, but without being able to beat Bunch-Bruevich and closing the game shorthanded. Olimp earns first points thanks to a sprint in the central period, but there has been a worrying decline in the third, something to work with for coach Sirokovs
Current events
External links

Czech Rep.: Tipsport extraliga | 1.liga | 2.liga

Slovakia: Tipsport Extraliga | 1.liga

Sweden: SHL | HockeyAllsvenskan
Other: EBEL | Belarus | Croatia | Denmark | Estonia | France | Great Britain | Iceland | Italy | Latvia | Lithuania | MOL-liga | Norway | Poland | Romania | Serbia | Slovenia | Spain | NHL | AHL |
League standings
Game fixtures
League leaders
After a 4-years hiatus, a Kazakh club could be back in Russian Second League Read more»
In late Spring, 2023, the International Ice Hockey Federation will host the 86th Men's Ice Hockey World Championships. The competition is easily global ice hockey's biggest event, with hundreds of thousands of fans traveling for each world championship finals event. ... Read more»