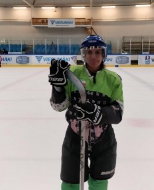 The Persian hockey princess
From practice in a car park and over a Persian carpet to skating in one of the most prestigious hockey academies: Eurohockey meets Guila Mohajer: facing many difficulties, the first Iranian women hockey player is now studying coaching in Vierumaki Sport Institute in Finland, dreaming about encouraging many girls in his country to lace skates and embrace a stick
From practice in a car park and over a Persian carpet to skating in one of the most prestigious hockey academies: the dream of Guila Mohajer to become the first Iranian female coach comes from far away: facing many difficulties, the first Iranian women hockey player is now studying coaching in Vierumaki hockey academy in Finland, dreaming about encouraging many girls in his country to lace skates and embrace a stick. After the closure of the only ice hockey rink in the country, Guila moved in 2015 to Turkish women league to play ice hockey professionally for the first time. Here her love for ice hockey agrows more and more encouraging her to continue this journey. From 2017 she entered in the renowned Sport Institute of Vierumäki, Finland, "a country which has more advanced hockey environment, so that I can benefit great coaches and facilities to improve more and also start to build my career in hockey coaching too." as Guila said to Eurohockey in this exclusive interview

A little bit of your biography, who is Guila Mohajer?
I am from the city of Rasht located at the Northern part of Iran under the Caspian Sea. During my childhood I used to imagine myself as a rock climber since climbing up the walls and trees was my hobby and never had any idea that I would end up being a hockey player. Even there wasn't any athletic sign in my parents and my father used to encourage me to be a musician. In fact, I did become a musician but then I quitted it because of hockey, the same as I did about my electronics engineering.
How did you fell in love with icehockey?
I used to be inline hockey player for 10 years and member of Iran's inline hockey national team until a small ice rink was opened in the capital city of Iran, Tehran, which sparked my passion for ice hockey and ignited me to pursue it at the following years. The feeling of skating on ice was so much more interesting for me which made me go through another challenge after Inline hockey and the more I went through it, the more passion I felt about it.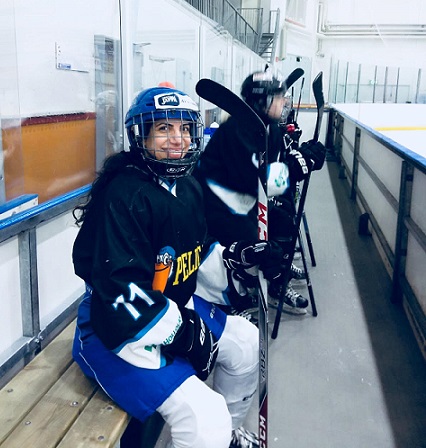 How difficult was it to start playing hockey (or thinking to be a hockey athlete) in Iran? Did being a woman make things more difficult?
One of the difficulties was the lack of facilities; there wasn't even any inline rink and girls' team in my city, so I had to move to the capital for it.
I was so passionate to improve that I had been trying to figure out any means to practice such as practicing my shots at the basement car park of my apartment and breaking some glasses sometimes of course or stickhandling over Persian carpet which could reduce the noise while giving me a surface to practice inside the apartment with safety for my stick blade.
Boys had more practice time but as a girl I wasn't allowed to practice with them due to some rules of our government. Albeit, the one who seeks find and I did it specially by encountering lots of nice people who helped me a lot in this way and tried to open some doors for me to practice.
Another difficulty was that many times I had to be responsible of my improvements totally by my own due to the lack of developmental systems that means I had to coach myself in many areas. It is a kind of challenge when you are not experienced but It also helped me be a better coach now.
I couldn't also travel to foreign countries with good or high level of ice hockey to access their facilities despite I was really eager to, due to difficulties in getting their visas as well as expenses.
After discovering my passion for ice skating I couldn't wait for trying ice hockey but the small ice rink with mirrors around didn't have any time allocated for hockey, so I remember that once I made a tray filled with water and put it into the freezer to make an ice surface for experiencing the feeling of puck on it and it was amazing
How is your daily routine in Finland?
I live in Vierumäki in which the Sport Institute of Finland and campus of Haaga-Helia University are located. During week days I have school from the morning till the afternoon, after that and during weekends depending on the schedule doing hockey workout in the gym, practicing on public ice time, going to Lahti Pelicans to coach or play and doing school assignments are my main options to do these days.
Are there other Iranian girls playing in your country or abroad?
I don't know about accurate statistics but yes there are cases which after leaving the country they switched to ice hockey.
Actually, I saw lots of interest among girls in ice sports in my country and we were developing girls' ice hockey on another small ice rink located in Kish Island but unfortunately the ice rink was closed.
What is your dream as athlete?
My dream is to reach my full potential in ice hockey as an athlete. The more I improve in ice hockey, the more I enjoy it.
Current events
External links

Czech Rep.: Tipsport extraliga | 1.liga | 2.liga

Slovakia: Tipsport Extraliga | 1.liga

Sweden: SHL | HockeyAllsvenskan
Other: EBEL | Belarus | Croatia | Denmark | Estonia | France | Great Britain | Iceland | Italy | Latvia | Lithuania | MOL-liga | Norway | Poland | Romania | Serbia | Slovenia | Spain | NHL | AHL |
League standings
Game fixtures
League leaders
The tenth title comes after a dominated final series, won in just 4 games. Read more»
Even if this is site mainly about European ice hockey we always look out for hockey around the world. In this piece we take a look back at some historic NHL moments. Read more»