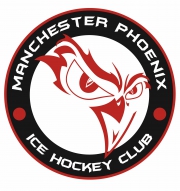 Manchester Phoenix set to fold?
Manchester Phoenix of the British EPL (second tier of ice hockey) are on the verge of extinction.
Ice hockey side Manchester Phoenix appear to be on the verge of extinction unless they can receive a rescue package within the next few days.
The club have been in serious financial trouble for the past couple of years ever since they left their previous ice rink facility in Altrincham.
They spent last season playing their home games in Deeside, before starting this season in Fylde while a new temporarily rink was due to be built back in Manchester.
Those plans did not come to fruition, and sadly the club look to now be set to fold unless something drastic changes over the next few days.
Phoenix managing director Neil Morris has apologised to the fans for what has happened, but admits that it is likely to be the end if they cannot receive funding this week.
"The last couple of years have been very tough for everybody in our organisation," he said.
"The one thing that has kept me going is the hope and promise of a building in Manchester and the absolutely brilliant human beings that make up the Phoenix support.
"We have run into commercial problems over the last few weeks. The club did get two weeks behind with its wages with our four senior British players and the three imports, which the guys were fantastic about and agreed to carry on while I got a new investor involved.
"Unfortunately that new investor would only put in half of the money that the club needed to finish the season.
"I need to say thanks to my players as they are a wonderful bunch of people that I am very proud to have worked with, and to my friend and most iconic member of British Ice Hockey, Tony Hand, who has been outstanding. I share a special bond of honour and trust with him.
"The fans have been the faithful. I will never forget all of them. I have had some fantastic times with them. Many of them feel like family and I am sorry if I have let them down.
"This is the first time I have ever looked to the corner for the towel. I just cannot go on. I really do love them all and will miss them all. I tried my best for all of us."
Current events
External links

Czech Rep.: Tipsport extraliga | 1.liga | 2.liga

Slovakia: Tipsport Extraliga | 1.liga

Sweden: SHL | HockeyAllsvenskan
Other: EBEL | Belarus | Croatia | Denmark | Estonia | France | Great Britain | Iceland | Italy | Latvia | Lithuania | MOL-liga | Norway | Poland | Romania | Serbia | Slovenia | Spain | NHL | AHL |
League standings
Game fixtures
League leaders
Sokil Kyiv trashes Valk Tartu but can't advance to Continental Cup semifinals Read more»
Despite a brave game by Ferencvarosi, a single goal scored by vetern Edijs Brahmanis is enough to secure the first place for Olimp Riga Read more»