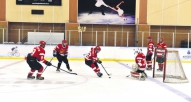 Turkish youth kick drug-addiction, become ice hockey stars
The life of drug-addicted youth, some of whom have criminal backgrounds has entirely changed after they won free tickets to an ice hockey game. They not only remained fans in the crowd but also became players on the team, which came in second in the Continental Cup
Tsuccess story of a group of drug addicted young people began in a park five years ago. These young people collected pieces of cardboard and plastic bottles from the garbage to participate in the Zeytinburnu Municipality's project offering ice-skating tickets in return for recycling. They merely wanted to entertain themselves while skating and get away from the realities of life, if even only for a while, without being aware of the outcome. When these drug addicted young people vandalized the skating rink, the mayor of the Zeytinburnu Municipality, Murat Aydın, decided to make an ice hockey team out of this group to save them from their bad habits. The struggle for hope that emerged at the Özgürlük Park in Istanbul's Zeytinburnu district helped many young people recover from their addiction and change the course of their lives. The children of slums believed that their fate was not sealed and that there would be a chance to get out of the criminal life and save themselves from drug addiction. The success came because all the participants of the project believed in themselves.

Zeytinburnu Municipality's Sports Club Ice Hockey Team is now professional. The team lost its first game 37 to 1, yet has made a name for itself with its successive accomplishments. The team became the champion of Turkish ice hockey league last season and managed to come second in their group at the Ice Hockey Federation's 2015-2016 IIHF Continental Cup in Serbia this year. However, this time, they set the bar higher: the aim is to be crowned European champion.
Hockey players train at the Silivrikapı Ice Skating Rink in Istanbul, continuously dreaming of becoming European champions one day. To listen to their success story, we headed to the skating rink. When we arrived, players were getting ready in their locker room. They later went out on the rink one by one, holding sticks. Players who were divided in groups towered over the rink on two-centimeters of steel. Some players were practicing with pucks and sticks in front of the goal post, while some were busy with penalty scores and tactics. The goalkeeper took the play board and brought the team together. Each player listened to the goalkeeper carefully. After a short huddle, the players began to work on their long-distance shots. The sound of sticks hitting pucks echoed around the rink as we watched.

During our visit, national sportsman Barış Coşkun, 31, who has been skating for 23 years and playing ice-hockey for the last 13 years, came up to us. "I have been on the team as a coach and a player since the beginning," Coşkun said. "There were young people who were drug addicts and involved in criminal activities on the team. Some older players and I tried to be role models to them." Although some of them did not give up their addictions right away, the senior team members did not give up on them; but instead spent more time with them. They went out to dinner and watched movies and matches together.

"At first, some came to training after taking drugs and had seizures but ice hockey has changed their lives. They got away from the criminal world and recovered from their addiction," Coşkun added. In their first game, the team was behind 37 to 0. Mayor Aydın showed his support for the team by shouting to the players that if they score one goal, they would be the winners of the game. The ice hockey team of Zeytinburnu lost the match 37 to 1; however, they won their most recent game by 48 to 0. "We came a long way," added Coşkun and returned to training.

As the training continues, we met Cengiz Gök, 30, a former national skier and ice hockey player for the last 10 years. He is also one of the senior members of the team. He said that they had a very hard time at the beginning: "It was hard to keep them on the rink for two hours to teach them the sportsmen identity and discipline but we beat the odds," Gök said. He said that the efforts of Deniz İnce, the president and the coach of the team, played an important role in their super league championship and European adventure. "Our aim is to become European Champion," Gök added. To crown their success which started from the streets in Europe, the players of Zeytinburnu's hockey team work harder with Canadian players as well as world-known Ukrainian hockey players who fled from the wars in their country. The ice hockey team is the apple of Zeytinburnu locals' eyes.

Another player, Özcan Alptekin, 21, comes from the southeastern district of Nusaybin. His family migrated to Istanbul due to financial constraints. "I have 33 brothers and sisters and I could not go to school," he said. Alptekin was also a drug addict when he was younger. "I felt freedom when I was skating on cardboard. All people influenced each other and we wanted to take part in the team. We started training and our numbers increased day-by-day. I was lead to useful things and left my bad habits. Ice skating changed my whole life. I earn a living and do sports. Now I dream to become a national player and even European champion," he said.

Halit Albayrak, the President of Zeytinburnu Sports Club Ice Skating Team as well as Deputy President of Turkey's Ice Hockey said that there are 24 clubs in Turkey's ice hockey super league. Matches generally take place in Erzurum, Ankara, İzmir, Kocaeli and Istanbul. "We found drug addicted young boys without any objectives for their life. Aside from them, there are Ukrainian players that fled from the war in their country along with some Canadian players," he said. The municipality is planning to open an Olympic ice skating rink to encourage ice hockey among more young people. "There is a misconception that ice skating is preferred only by those who are wealthy. We abolished this perception and continue to encourage more young people to join this sport," he concluded.
Link to original article published on Daily Sabah


Czech Rep.: Tipsport extraliga | 1.liga | 2.liga

Slovakia: Tipsport Extraliga | 1.liga

Sweden: SHL | HockeyAllsvenskan
Other: EBEL | Belarus | Croatia | Denmark | Estonia | France | Great Britain | Iceland | Italy | Latvia | Lithuania | MOL-liga | Norway | Poland | Romania | Serbia | Slovenia | Spain | NHL | AHL |
League standings
Game fixtures
League leaders
Gary Graham parted ways with EIHL side Nottingham Panthers this morning. Read more»
With a 5-2 win for Cardiff and 4-1 win for Angers they will take their place in the Superfinal. Read more»