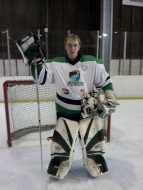 The wandering goalie looking for new adventures
After playing in Iceland, Denmark, Estonia and Turkey the Danish goalie Anders Jespersen finished the season with playing in New Zealand. Eurohockey.com has spoken to him again about his experiences.
Jespersen speaks about his stay in New Zealand "It was a really good experience to play in New Zealand. I was definitely in the best team in New Zealand, but unfortunately not in the strongest team. The ice hockey in New Zealand becomes better and better, year for year. There are some really good import players in the league".
During the stay in New Zealand Jespersen also worked as a goalie coach. "We had a local hockey school called Camorra Hockey School, and I was running this practice with a Canadian guy named Chris Belanger."

Comparing the leagues he played in, he thinks Estonia is best on ice while Turkey is best off ice.
"The best league I have been playing in is for sure the Estonian league. This is a really good league, and there are lots of skilled Estonian players. The organization in Turkey and New Zealand was the best. I was in Turkey two times, and everything was just clear there. I got my flight ticket on mail, someone picked me up in the airport, and my apartment was just ready when I arrived. There was a good communication in Turkey. I was playing in two different clubs, but I was staying at the same beautiful apartment during my stays in Turkey", Jespersen says.

About his last league he added "The Organisation in New Zealand was also pretty good, but unfortunately, there was some miscommunication between me and the club – But I just takes this as a learning lesson for my future carrier".

Even if Estonian league was by far the best on ice it was not that good off ice.

"The organization in Estonia and Iceland was not that good compared to Turkey and New Zealand. In Estonia, they promised me lot, but then I arrived, I did not get all what they promised me. I had to pay my own flight to Estonia, and they promised me that I would get the money when I arrived, but I just got half of the money I paid for my flight and I did not get all the salary, that they promised me".

But even if he had some problems during his adventures Jespersen really wants to encourage players to try their luck and giving some advice on the way. "But always be ready for the worst. You never know where you are going to stay, you never know if you will get all what your get promised. It is just important that you are happy and always show up with a smile on your face.
I mean if you have time to visit the world – do it ! When you are young, you can do exactly what you want to do. If you don't have a wife and don't have children – Why not use the opportunity to visit the beautiful world and get lots of experience?"

Now Anders Jespersen is back in Denmark and still looking for a new club and perhaps a new adventure. "I'm open for anything. So if anyone know a club who is looking for a goalie / goalie coach, just feel free to contact me: Anders-jespersen@live.dk" he finished.

Thank Anders for another chat about your experiences and good luck in your future career.



Czech Rep.: Tipsport extraliga | 1.liga | 2.liga

Slovakia: Tipsport Extraliga | 1.liga

Sweden: SHL | HockeyAllsvenskan
Other: EBEL | Belarus | Croatia | Denmark | Estonia | France | Great Britain | Iceland | Italy | Latvia | Lithuania | MOL-liga | Norway | Poland | Romania | Serbia | Slovenia | Spain | NHL | AHL |
League standings
Game fixtures
League leaders
Gary Graham parted ways with EIHL side Nottingham Panthers this morning. Read more»
With a 5-2 win for Cardiff and 4-1 win for Angers they will take their place in the Superfinal. Read more»