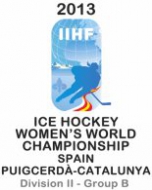 2013 Women's Div. II Group B Day 4
Korea shuts-out Belgium, Croatia pounds South Africa, Spain gets by Iceland easily
Four days into the tournament, and Korea has given up only 2 goals. With two shut-outs on their belt, and one remaining game against a struggling South African squad, a tournament sweep and promotion to Division IIB is all but assured. The South Korean team has turned things around significantly from last year, while Spain looks to finish more or less in the same spot they did last year.

Belgium vs South Korea 0-2
The Belgium goaltender has been a stalwart defender during this tournament. Despite being heavily out-shot game after game, they've managed to stay in every game. In fact, that defense is really what seperates them from Iceland, which may make their game tomorrow somewhat interesting. The Korean goaltender is someone who should also not be ignored. So-jung Shin's GAA of 0.52 across 230 minutes of play leads the tournament. It would almost be a goalies' duel if Belgium could generate some real offense.

Belgium did do slightly better in this game, managing 19 shots through three periods, but Korea poured it on, tripling and doubling them in the first two periods for 44 shots. Jo opened the scoring 12 and a half minutes into the first. Despite a couple of powerplay chances in the second, Belgium still couldn't beat Shin. In the third, Korea got an early power play goal from Park. Three more penalties against Belgium late in the period prevented them from getting much else going.

South Africa vs Croatia 2-17
Outshot 51 to 10, the game was a foregone conclusion, and little more than a stats padder for Croatia. Matic was +20 in the face-off circle with 3 goals and 4 assists for Croatia. Filipec also had 2 goals and 4 assists. The second was the most productive period for South Africa. They had 2 goals on six shots. With their trip to the qualification level next year all but assured, South Africa will have to do some serious work if they want to make it in this division.

Iceland vs Spain 1-4
Heavily penalized and lacking in offense, Iceland struggled through this game. Spain more than tripled Iceland's count of 12 shots with 37. They as well made ample use of the powerplay getting three powerplay goals. Ucedo got the first mid-way through the first on the powerplay. The second was lackluster with little to break up the action beyond a single penalty for Iceland. Ortuno got another powerplay goal for Spain early in the third, followed up by an even strength goal from Sierra. With five minutes to go, Iceland finally got on the board with a powerplay goal of their own. Ingadottir scored to give the team a little hope. However, a minute and a half later Abrisqueta scored on the powerplay again for Spain to lock-up the win. Gurrea continued to perform will for Spain in the face-off circle taking 13 of 18 draws.


Current events
External links

Czech Rep.: Tipsport extraliga | 1.liga | 2.liga

Slovakia: Tipsport Extraliga | 1.liga

Sweden: SHL | HockeyAllsvenskan
Other: EBEL | Belarus | Croatia | Denmark | Estonia | France | Great Britain | Iceland | Italy | Latvia | Lithuania | MOL-liga | Norway | Poland | Romania | Serbia | Slovenia | Spain | NHL | AHL |
League standings
Game fixtures
League leaders
Home loss for the 2021 champion on the opening day of the Swedish league. Read more»
The SC Bern defender Beat Gerber played his 1168th NL game on Friday. Read more»