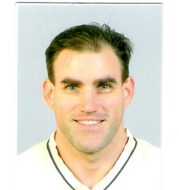 Balkan hockey finds itself at a cross road
Slavia Sofia American forward Jeffrey Haglund talked with Eurohockey.com about health and perspectives of Bulgarian hockey
Eurohockey asked to American player
Jeffrey Haglund
to share his point of view about Bulgarian Hockey

Eurohockey.com: Jeffrey, thanks for your time. Firstly we want to know how an American come to play hockey in BulgariaJeffrey Haglund:
I have been in Eastern Europe for 15 years. I brought my family here not to play hockey, but to help people. I played hockey growing up in Minnesota and for four years of college in Michigan so I had a love for hockey and it was a great outlet for me when I lived in Ukraine and in Czech Republic. At a time of great frustration with paper work and life, having recently moved to Bulgaria some eight years ago, I visited Georgi Milanov in his office and asked if there was a men's league to play hockey. There was only a professional league at that time and he offered me a try-out. After performing well my first couple practices he invited me to transfer my status to Hockey Club Slavia and stay on. It has been a wonderful ride playing hockey in Bulgaria, many ups and downs, but with the development of amateur hockey and a great emphasis on youth hockey by the younger Milanov, Martin, I have really enjoyed being a positive influence and a help building up hockey in Bulgaria.
Eurohockey.com: Hockey in Bulgaria used to be a main sport decades ago, today it's difficult to find news or even the results on sports media...what happened? Which is the attendance at games? are players professional?Jeffrey Haglund:
Hockey in Bulgaria was a main sport with lots of attention from before 65 yrs until the fall of communism. At that point, the costs of maintaining an ice rink and the costs of hockey itself skyrocketed and basically pushed out the mediocre players and limited the number of teams and players. Currently there are only two ice rinks in Sofia, one owned by the sports federation and one owned by Slavia. All the teams in the area have to vie for time at these rinks. They also have to compete with figure skating, short track and others for good ice time. The Zimni Zvorets (winter palace) is owned by the government and the ice time is free for those playing there. The ice time at Slavia is paid from the receipts from team members and those renting the ice. There is one small rink in Varna and a temporary rink in Haskovo.
The attendance of our game last night was two or three hundred. We are not getting much media attention and this is due to the diminished impact of BG hockey on people's lives here in Bulgaria.
There are professional and semi-professional players in the league. Some teams can pay more for players. This year CSKA purchase a number of great Slavia players and will be a formidable team. Other teams in the 2012-2013 season will be NSA (National Sports Academy) and Levski. Levski has however hit rock bottom. With little money for quality players their roster age has gone to the extremes, old and young. Slavia also has a great youth movement and many young players are getting lots of play time as Slavia looks to the future. In general, though, today's professional leagues have more players getting paid from a second job than from the hockey clubs.
Eurohockey.com: What in your opinion should be necessary to bring back hockey among the popular sports in Bulgaria? Money, visibility? Professionalism?Jeffrey Haglund:
This is a paramount question for all the Balkan countries. Hockey is at a cross roads. Are we going to continue to funnel money into old stars and players past their prime or are we going to emphasize the future and look for ways to reach the youth of today and better these programs. For Slavia, we are looking to the youth. Martin Milanov has developed a super youth development program for Slavia. There are other teams of course, CSKA is also developing teams at all the levels Slavia is u12, u14, u16, and u18. We are excited about the future, but it may take a few more generations before the sport becomes more popular again.
Money is a big issue. The Balkan countries including Bulgaria are super cash strapped. Since hockey is not a big money generating operation, we have some serious problems growing hockey without thinking outside the traditional ways of gathering funds.
Professionalism is a big question in Bulgaria. Recently, we played NSA at the Slavia rink. Players on the NSA team, not all mind you but some, screamed at the referees about calls, chased after the opposing player's and started fights by going from their bench to our bench and actually climbing in and throwing fists. This type of activity is clearly unprofessional and must be dealt with. We desperately need stronger officiating and tougher enforcement of professional play in BG. (after the episode narrated by Jeffrey,
Slavia decided to pull out from League
)
Eurohockey.com: in last years the national league had 3 or four teams, while amateur BAHL alligned a dozen of teams, even from Greece. Why not to create a unique league? I guess the difference isn't so huge....Jeffrey Haglund:
We have a great league, not officially tied to BIHF, that is the Balkan League. This is a fantastic amateur league of many men and youth playing from Greece, Macedonia and Bulgaria. This league is called the Balkan Amateur Hockey League. Martin Milanov is running this league and it is growing in strength and quality every year. Many players have moved up from the BAHL to the professional league. The reason they cannot be merged is that the levels are too diverse. There is actually two tiers in the BAHL. Many of the players are a little jittery about playing contact and going at the professional speed. Most of the players are not yet up to the ability to compete at the level either. So, if you don't want to get hurt which many do not and you have to go to a job the next day to support your family, merging the professionals right now seem not to be the answer for the time being.
Eurohockey.com: Are you eligible to play for Bulgaria? Have you ever been invited to play?Jeffrey Haglund:
I am not eligible to play for Bulgaria as I do not hold a BG passport. When the request came from my team to a person at the Bulgarian Sports Ministry to get a BG passport, after reviewing my case, the individual said that I am too old and that was five years ago! I have wished on a few occasions to play for BG, yet I continue to love playing hockey here even if it is not for the national team.
5) Slavia dominated the league in last year and in practice is the national team, why this? is the only club to enhance hockey? Which is the situation in other clubs like Levski and CSKA?Jeffrey Haglund:
Frankly, Slavia has many players that simply love to play hockey. The coach has been and seems to continue to be the national team coach, so many players want to make it simple and just play for him during the year as well. This year will be very different. Many players that played on the national team last year have moved out of Slavia and are playing for other teams. The coach has not been announced and the players are all waiting to see if they will play.
Levski as I wrote above has simply fell apart. CSKA routed Levski this year by more than 20 points. It is sad to see the disparity, but CSKA really spent the money this year and has a very formidable team. With the development of CSKA and all the money put into the programs there, I look forward to seeing what they will offer in the years to come. Some excellent players with super attitudes and a serious love for hockey, Stanislav Muhachev and Martin Boyadjiev, went to CSKA this year and they are really helping the youth program there.
Eurohockey.com: The traditional rivalry in football between Levski and CSKA exists also in hockey? Could be an incentive to popularize hockey?Jeffrey Haglund:
I was told this cannot happen in BG. See above. Also funds simply are not available for this type of rivalry.
Eurohockey.com:
How do you see the future of Bulgarian hockey? If you look at domestic league or at national team roster (always the same players) the decline seems unstoppableJeffrey Haglund:
We look to the future with anticipation. Men's hockey is in a pause for the moment. We are maintaining, but looking forward with our youth programs. The youth perform very well until the u14 and u16 when we seem to fall behind other European programs. Up until then level we are holding our own. Now we need strategies to get us to the next level. I personally and excited for the future. I also hope my son can be a part of Bulgarian ice hockey as it moves to the next level.
Eurohockey.com: Could be realistic a multinational league with Romania or Serbia or other countries to "shake" the domestic hockey?Jeffrey Haglund:
This seems like a far off possibility at the present. The location of hockey in Romania puts it far from us and Serbia looks to Slovenia and the quality hockey there and the history they have together. These obstacles seem to be hard to overcome. I think BG is interested in a league like this in the future, but we will need to focus on our juniors first and make the programs here more competitive.
Eurohockey.com: Is the junior moviment "alive"? Are there projects to incentive hockey amoung kids and/or teens?Jeffrey Haglund:
See my comments above. After talking to the Iliana at the BIHF, We are excited about the Balkan Ice Hockey Union. It is group trying to develop the hockey programs in the Balkans. We ar hosting clinics for coaches, goalies (just hosted this event in BG this past week), officials, and team managers. There is a hockey festival, a tournament with nine team participating. There will be a hockey camp in Turkey Jan 2012. Otherwise, Slavia and other clubs are looking to the youth today to further hockey and help it grow in Bulgaria. One way we are doing this is connecting with places like Czech republic and exchanging our youth. We are giving and getting quality players to enhance our programs in Bulgaria. It is great to watch the players come back after a year and see how much they have improved. This improvement will help the whole of hockey in BG as they come back to play.
10) Finally, can you suggest us some talent to watch or future potential stars?Jeffrey Haglund:
I see a few really good players on the horizon, here is a list:
Martin Talev
Christian Radovanov
Martin Nikolov
Victor Chebishev
Veselin Dikov
Georgi Blagoev
Brothers; Vasil and Dimitar Videnov
Momchil Krashtev
and Stephan Yurukov
Current events
External links

Czech Rep.: Tipsport extraliga | 1.liga | 2.liga

Slovakia: Tipsport Extraliga | 1.liga

Sweden: SHL | HockeyAllsvenskan
Other: EBEL | Belarus | Croatia | Denmark | Estonia | France | Great Britain | Iceland | Italy | Latvia | Lithuania | MOL-liga | Norway | Poland | Romania | Serbia | Slovenia | Spain | NHL | AHL |
League standings
Game fixtures
League leaders
Full analysis of the last 10 seasons of the Ukrainian ice hockey championships Read more»
Full analysis of the last 10 seasons of the Ukrainian ice hockey championships Read more»