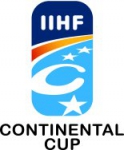 Continental Cup
League status: Active
Administered by: International Ice Hockey Federation
Head manager: Rob van Rijswijk
Year of start: 1997
WWW: http://www.iihf.com/
Did you find any incorrect or incomplete information? Please, let us know.
GROUP: Superfinals - Angers (FRA)
GROUP: Group E - Cardiff (GBR)
GROUP: Group F - Nitra (SVK)
GROUP: Group C - Angers (FRA)
GROUP: Group D - Asiago (ITA)
GROUP: Group B - Istanbul (TUR)
GROUP: Group A - Sofia (BUL)
Last updated: 15 Jan 2023, 19:59
Qualifying group stages and then a Super Final round robin with four teams.
The Continental Cup started in 1997 and was intended for countries without participating teams in European Hockey League (EHL).
MHK Sokil Kyiv withdraws from Continental Cup
Due to financial issues, MHK Sokil Kyiv withdraws its participation in the 2022/2023 Continental Cup third round, play next November in Asiago, ITA. Sokil will be be replaced by HK Kremenchuk.
(27 Jul 2022)
Continental Cup Superfinals held in Aalborg
The International Ice Hockey Federation announced the Continental Cup Superfinals will be held in Aalborg, Denmark from 7 to 9 January 2022.
Matches will be held at the "Gigantium" arena, one of the largest indoor arena in the country, with a capacity of 5,000 spectators
Host Aalborg Pirates will face Saryarka Karaganda (Kazakhstan), Cracovia Krakow (Poland) and HC Gomel (Belarus)
(04 Dec 2021)
Ferencvarosi-Telekom withdraws from the Continental Cup
Hungarian Ferencvarosi-Telekom Budapest won't compete in next Continental Cup, the club announced in a statement on its website, calling the decision "the only responsible and correct" due the health situation and the strict measures decided by the IIHF to partecipating in international tournaments.
"This also severely affects the participating teams in terms of organizing the trip and the cost of participating in the tournament."
Ferencvarosi should play in the semifinal round, held in Amiens, France from 13 to 15 November 2020 with Altai Torpedo (Kazakhstan), Amiens Gothiques (France) and a qualified team from first round
(11 Aug 2020)
Ertis Pavlodar withdrew from Continental Cup
Ertis Pavlodar won't participate in next Continental Cup as previously announced. Altai-Torpedo Ust Kamenogorsk, the farm club of HC Torpedo, will replace Ertis as owner of Kazakhstan Cup. Altai will play in Amiens, France next 13-15 November with Amiens, Ferencvaros and a team qualified from round played in October
(05 Jul 2020)
Renon confirms title in Italy
The champions of last four years decided title in Italy during the last weekend at Palaodegar in Asiago: champion Renon won 3-2 against home side Asiago with a comeback from 0-2, confirming the title of Serie A, the third in last four season, earning a place for next Continental Cup. This seaon Italian champion was decided in a semifinals/final between the best four teams after the end of Alps Hockey League regular season. In the semifinals Renon won 5-2 against SG Cortina, while Asiago defeated 3-1 Val Pusteria
(23 Jan 2017)
Zeytinburnu Istanbul won Continental Cup first round
For the first time a Turkish team advances to second round of Continental Cup: national champion Zeytinburnu Istanbul dominated First Round, played at Winter Palace in Sofia, Bulgaria. With a perfect record and an impressive 32-6 goals record, Turkish demolished 5-1 home side Irbis-Skate Sofia, 8-3 Serbian champion Partizan Beograd and 19-2 in the last game the Israelian HC Bat-Yam. Partizan finished 2nd, ahead of Irbis Skate and Bat-Yam. Zeytinburnu dominates also the individual statistics, with 5 players finished as scoring leaders, with Ukranian forward Aleksei Voytsekhovsky as top scorer with 15 points (5+10).
Zeytinburnu advances to Second Round, scheduled for 21-23 October in Jaca, Spain against CH Jaca (SPA), Nottingham Panthers (GBR) and HK Liepaja (LAT)
(02 Oct 2016)
Continental Cup Finals will be held in France
The Rouen Dragons will host this year's edition of the IIHF Continental Cup Super Final. Between the 8th and 10th of January the 13-time French champion will face off against Asiago Hockey (Italy), Herning Blue Fox (Denmark) and GKS Tychy (Poland). It is already the fourth time that the winner's plate will be awarded in Rouen.
(01 Dec 2015)
CSKA Sofia won't travel to Tychy
Due to financial problems CSKA Sofia, winner of Round 1 of Continental Cup, announced the team won't travel to Tychy, Poland, next weekend to partecipate in Second Round of competition. IIHF will fine the club for the withdrawal and invited the clubs finished behind CSKA to partecipate. Also runner-up Zeytinburnu Istanbul declined, but Partizan Beograd, finished third with just one game won, accepted the invite and will face GKS Tychy,Coventry Blaze and Dunarea Galati for a spot in semifinals
(20 Oct 2015)
Continental Cup Group C scheduled
The IIHF Continental Cup second round, gets under way in October and the Coventry Blaze of the EIHL, have now confirmed the order and face off times for all of the matches in group C. Blaze will face Romanian Champions, Dunarea Galati, hosts and Polish Champions GKS Tychy and the winner of first round Group A in the four team event.  The winners will progress to the third round in Rouen, France in November.
Full schedule for group C:

Friday 23rd October

15.30 - Dunarea Galati v Coventry Blaze
19.30 - Group A Winner v GKS Tychy

Saturday 24th October

15.30 - Coventry Blaze v Group A Winner
19.30 - GKS Tychy v Dunarea Galati

Sunday 25th October

15.30 - Group A Winner v Dunarea Galati
19.30 - GKS Tychy v Coventry Blaze

All face off times are CET which is the local time zone.
(12 Sep 2015)
HC Kremenchuk applies to partecipate in Continental Cup
Ukraine silver medalist HC Kremenchuk applied to partecipate in next Continental Cup hosting one group in its arena. Kremenchuk won the regular season of Ukraine League, losing finals against ATEK Kyiv. The draw for 2015-16 Continental Cup will take place on June 20. Recall last season Ukraine representative Companion Kyiv withdrawn from competition due to the political situation
(27 May 2015)
Past league results:
League standings:
Historic statistic:
Individuals records:
Fast facts
season 2022-2023
A look back at a season that lived up to its promise. Read more»
The Alliance of European Hockey Clubs (E.H.C.) has announced the nominees for the 2023 Fenix Outdoor & Warrior European Hockey Awards. Read more»