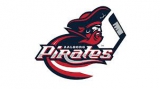 Aalborg Pirates is major league affiliate of:
AaB 2
Did you find any incorrect or incomplete information? Please, let us know.
Season 2023-2024
Current roster
season 2023-2024
* no longer in the club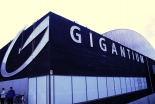 Adress: Olympiaparken 7
Aalborg
Capacity: 5000
Opened in: 2007
An ice hockey team organized under the sports club of that name first appeared in 1967, played several years in the Danish league and won the Danish league championship in 1981. in 1997 AaB Ishockey merged with a smaller club, IK Aalborg. The merged team was known as Aalborg Ishockey Klub (AIK) in the period 1997-2003, but following financial instability at the club, the professional license was transferred to Aalborg Boldspilklub or AaB. From the season 2012/2013 AaB sold the team and the team is now playing under the name Aalborg Pirates.
from 1997 to 2003: Aalborg IK
from 2003 to 2012: AaB Ishockey
from 2012 to present: Aalborg Pirates
from 1981 to 2012: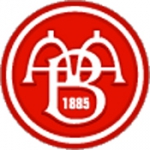 from 2012 to present: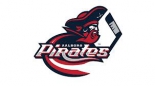 Aalborg wins Danish championship
Aalborg Pirates is the 2022 champion of Denmark after a 5-1 win over Rungsted in the fifth game of the finals.
Thomas Spelling scored three of the goals.
(24 Apr 2022)
Continental Cup Superfinals held in Aalborg
The International Ice Hockey Federation announced the Continental Cup Superfinals will be held in Aalborg, Denmark from 7 to 9 January 2022.
Matches will be held at the "Gigantium" arena, one of the largest indoor arena in the country, with a capacity of 5,000 spectators
Host Aalborg Pirates will face Saryarka Karaganda (Kazakhstan), Cracovia Krakow (Poland) and HC Gomel (Belarus)
(04 Dec 2021)
Danish Cup draw
The first round of Metalcuppen has been drawn: Hvidovre IK - Rungsted Ishockey, Herlev Eagles - Esbjerg Energy, Bulldogs Odense - Gentofte Stars, Amager Jets - Rødovre Mighty Bulls. It will be played September 5.
The quarter finals will be played September 12 and 13 and then the four top seeds SønderjyskE, Blue Fox Herning, Aalborg Pirates and Frederikshavn White Hawks will enter the competition.
(22 Jun 2014)
Historic rosters:
Historic statistics:
Past results:
League standings:
Fast facts
season 2023-2024
Cardiff Devils won by one-goal-difference against home side Grenoble and advances to the Continental Cup Superfinals along with Nomad Astana Read more»
Kazakh champion closes the Continental Cup semifinals round with a perfect record, by beating HK Zemgale in the last game Read more»