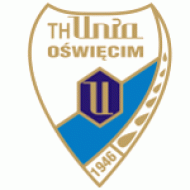 Continental Cup Semifinals preview: Unia Oswiecim
The current leader of Polsih League arrives in Nitra in search of the final
Unia is currently the leader of the Polish Hockey League. Is the team with the highest number of goals scored and the best shooting efficiency in the entire league. They do very well playing shorthanded

Slovenian coach Nik Zupančič finds the right chemistry between the offensive and defensive aspects. He likes orderly hockey and is a follower of the step-by-step principle.
Unia has a solid goalkeeper. Kevin Lindskoug, who replaced the injured Linus Lundin, with Continental Cup experience. He played with GKS Katowice in the Superfinals in Belfast in 2019

The white-and-blue have some really good strikers in their squad. The main roles in the offensive game are played by Teddy Da Costa, captain Krystian Dziubiński, Michael Cichy and Alexander Szczechura.
Da Costa is a very combative striker who has a powerful slap shot. In power plays, he often hits from the left side of the goal.
Cichy-Szczechura have been creating a well-complementing duo for several years. The first is a sniper, and the second one can perfectly pass the puck. Dziubiński, on the other hand, is the leader of the whole team. He fights on every inch of the ice and in the current season, with 13 goals, he is the PHL's top scorer.
The strength of Uniais also a well-balanced third attack, created by Sebastian Kowalówka, Łukasz Krzemień and Jan Sołtys. They've decided the fate of several matches.
When it comes to weaknesses, it is primarily a game of destruction. Simple mistakes happen to them, which results in the loss of a goals.

Czech Rep.: Tipsport extraliga | 1.liga | 2.liga

Slovakia: Tipsport Extraliga | 1.liga

Sweden: SHL | HockeyAllsvenskan
Other: EBEL | Belarus | Croatia | Denmark | Estonia | France | Great Britain | Iceland | Italy | Latvia | Lithuania | MOL-liga | Norway | Poland | Romania | Serbia | Slovenia | Spain | NHL | AHL |
League standings
Game fixtures
League leaders
Gary Graham parted ways with EIHL side Nottingham Panthers this morning. Read more»
With a 5-2 win for Cardiff and 4-1 win for Angers they will take their place in the Superfinal. Read more»