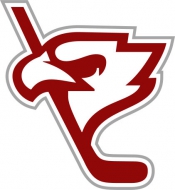 Interview with Michal Naróg, the rising star of Polish hockey
Poland national team and HK Zagłębie Sosnowiec defender talks about his perfomance in the club, the national team and his views of Polish Hockey League.
Eurohockey: I would like to start our conversation with questions about Zagłębie Sosnowiec. Recently, your form has gone up significantly, you've managed to win several key matches with direct rivals for the play-off. What was the key to raise your game?
Michał Naróg: Exactly. We had a series of defeats in the first round and I don't think any of us was happy with the number of points we scored in the first round.
After that, we had a conversation in the locker room with the coach. We started to train harder and it worked well. We are very happy with the effect. We want to continue that.
What are your goals now? How do you plan to make these performances regular, especially with the top clubs?

We try not to look too far ahead, the next game is the most important for us and and we all focus on this. As for the second part of your question, I think that good defensive play can help us score in games like this. I we can't let our opponents get advantage, then we can fight anyone.
The construction of a new home for hockey players and footballers from Zagłębie is coming to an end in Sosnowiec. How much can the new ice rink change and what potential does it have for the development of Sosnowiec hockey?
I really believe that more and more people will start coming to our games. In addition, there is also a hall and a new stadium. When it all starts, the fans will support us whether we win or lose.
For the second year in a row, national team coach Róbert Kaláber drafts you to the Baltic Cup tournament. How much does playing for the Polish national team mean to you?
I'm really glad that the national team coach trusts me so much, despite my young age. It is an honor for me and I'm very happy to see myself on the list of players called up for the national team meeting.
Players from the top of the league weren't selected for the Baltic Cup. Do you think that at such tournament you are able to prove yourself to become a full-time national team player?
I think I won't get another chance to play with the eagle on my chest only by competing in the national team tournament. It's also important to continue building the trust of coach Kaláber with my solid performance at the club.
Last season you made your debut in the senior Polish national team. How much added value is the opportunity to play for the national team at an international level?
I think it's a great experience that I can use later on in the league. Just being at the training camp and the opportunity to train with the best hockey players of the Polish Hockey League gives a lot of self-confidence.
Many experts say that the league has become very even this season. What do you think about this opinion?
I think last season was pretty even. Yes, we had series of defeats, but we were also able sometimes to fight with the best as equals. I think it's similar to last season.
You come from Gdańsk and played there for several seasons. I think it breaks your heart when you see what is currently happening with Gdańsk hockey. Do you think there is a chance for Stoczniowiec to rise from his knees?
I must admit that I would love to play in Gdańsk. I have a whole family there and it would probably be much easier for me. Is it possible to rebuild Gdańsk hockey? – I think I'd rather keep it quiet and maybe not answer this question.
Probably the best advertisement for Gdańsk hockey is the number of players raised there playing regularly for the national team. Aron Chmielewski also comes from Gdańsk, and I could go on and on...
Exactly... If a new team was created and all the players went back to their roots, I think we would make a really strong team. I also don't think there would be any problem with crowded the ice rink, people in Gdansk love hockey.

Interview conducted by : Kamil Przegendza

Czech Rep.: Tipsport extraliga | 1.liga | 2.liga

Slovakia: Tipsport Extraliga | 1.liga

Sweden: SHL | HockeyAllsvenskan
Other: EBEL | Belarus | Croatia | Denmark | Estonia | France | Great Britain | Iceland | Italy | Latvia | Lithuania | MOL-liga | Norway | Poland | Romania | Serbia | Slovenia | Spain | NHL | AHL |
League standings
Game fixtures
League leaders
Gary Graham parted ways with EIHL side Nottingham Panthers this morning. Read more»
With a 5-2 win for Cardiff and 4-1 win for Angers they will take their place in the Superfinal. Read more»