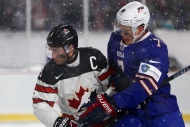 Let's Put a Freeze on Outdoor Hockey Games
The outdoor World Junior experiment was cool. But let's keep it as a one-time thing.
Ok, outdoor games were cool at one point. The first one in Edmonton? That was amazing. 2008 in Buffalo? Truly a sweet event.
But the gimmick quickly died off, with multiple outdoor games happening each year. Hell, I had no idea the Toronto Maple Leafs were playing in their second straight outdoor game in a few months. And against Washington? They practically live outdoors at this point.
It's ridiculous, so you can believe I had mixed feelings when the IIHF and USA Hockey announced there would be an outdoor game at New Era Field in Buffalo during the 2018 World Juniors. Going to a historic event would be cool. Heck, I've never been to an event with over 40,000 people before.
But when the event happened, I was in the press box with what seemed like soundproof glass. It was almost impossible to hear the roar of the well-attended crowd. Compared to my photographer Anders, who was at ice level, I completely missed out on the great atmosphere.

So all I got to see was a below-average hockey game between two of the best junior teams in the world.
With the wind chill nearing -14°C, cold wind and snow blowing in your face and vantage points making the players look like peewee kids, it was hard to follow the battle that would have been much more entertaining indoors. Sure, the weather was better than expected, but you got to be brave to want to sit outside for so long, no matter where you're from.
It's a sacred game that's typically reserved for New Year's Eve. It's a game that gets North Americans dying for more. Some of the greatest battles between the two countries have come at the World Juniors.
And fans instead had to withstand a miserable mid-afternoon affair.
Nevermind USA having to play a game late the night before. This just didn't add up well.
Before you say, "Steven, you're Canadian. You signed up for cold weather," let me say this: there's nothing enjoyable about sitting in a freezing cold stadium with blowing winds enough to make Frosty the Snowman suicidal to watch a lower quality product than we're used to on an average basis.
Ask anyone what they remember most about going to an outdoor game. I bet it'll have to do with the atmosphere. Sure, there's been exciting moments, but nothing that didn't stem out of overhyping a mid-season contest that doesn't award anything special to the teams that shaved icicles off their beards when it was all said and done.
I talked to people who watched the game on TV and others that saw it in person. The people who went to the game itself said the atmosphere was good, but the weather took away some of the enjoyment. For those watching on TV, it was an elongated mess.
With holes in the ice, it was becoming a safety hazard. The surface needed many breaks to allow ice crews to clear the falling snow so that players would stop tripping.
If you were there, you won't forget the game anytime soon. The ending, especially for Americans, was what the tournament organizers were dreaming of. I'll admit, as much as the shootouts get crapped on for being a terrible way to end a game, it was exactly what the game needed. The pressure of being in a do-or-die, one-on-one situation in front of a massive stadium is just bonkers.
But if the game is just a three-hour snoozer, no matter who's playing, is it really worth it? The television cameras were a mess to follow, so the assumingly big fanbase watching on TV were left reaching for the Advil. The game itself lacked the excitement that their two meetings a year ago had.

The NHL has marketed in the past that going outdoors is going back to the roots of both the sport and those that play in the games. Sure, maybe for some people. But Brady Tkachuk said that most of Team USA had never played an outdoor game in their life before. The current generation of junior stars had no particular connection to the style of hockey they partook in. So that storyline begins to fade.
So again, is it worth it?
As a one-off event, I'm glad it happened. It put the tournament into the limelight again and created some incredible memories for a bunch of teenagers, many who may never make it to the NHL (though, if any play for Pittsburgh or Chicago, they'll get more than enough opportunities).
But this better not become a thing moving forward. There's no indication we'll see this in Vancouver next year, probably due to the inevitable first-ever rain storm during a IIHF contest. I'm surprised Hockey Canada didn't think of this last year when the Toronto Maple Leafs were playing in the Centennial Classic unless the NHL really had no interest in inviting a junior tournament.
Many hardcore hockey fans don't care about the NHL's frequent outdoor endeavours. It's become too oversaturated to the point where it's hard to keep track who's actually involved. It's easy to go on Twitter during one of the games and still have no clue it's on.
Taking the incredible Canada/USA rivalry outdoors may sound good for storylines, but for fans, it takes out the good hockey they look to expect. And that's just not fair to those who truly care about the tournament. It's one of the games North American hockey fans look forward to each year and for those watching on TV, the whole experience is a flat out disappointment.
I'm glad it happened, but let's just please leave it at that.
Follow me on Twitter, @StevenEllisNHL.
Photo from Anders Marshall/Euro Hockey
Current events
External links

Czech Rep.: Tipsport extraliga | 1.liga | 2.liga

Slovakia: Tipsport Extraliga | 1.liga

Sweden: SHL | HockeyAllsvenskan
Other: EBEL | Belarus | Croatia | Denmark | Estonia | France | Great Britain | Iceland | Italy | Latvia | Lithuania | MOL-liga | Norway | Poland | Romania | Serbia | Slovenia | Spain | NHL | AHL |
League standings
Game fixtures
League leaders
Växjö Lakers won the Swedish SHL playoffs for the third time. Read more»
Men's ice hockey World Championships 2021 are only few weeks away so we at Eurohockey.com dived into it and explored what to expect from the tournament. Read more»