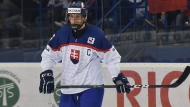 Q&A With Slovakian World Junior Forward Martin Fehérváry
Eurohockey's Ty Dilello talked to Martin Fehérváry about playing hockey growing up and returning to the Slovakian World Junior team.
One of Slovakia more notable players on this year's World Juniors roster is eighteen-year-old defensemen Martin Fehervary. The 6'1'' Fehervary, along with Martin Bodak makes up the core of Slovakia defensive core.
A native of Bratislava, Martin played minor hockey in the Czech Republic for a number of years before returning to his hometown to play for their U18 team. For the 2014-15 season, Fehervary saw a way to further his development and took it when he joined the Malmo Redhawks organization in Sweden. With Malmo, he climbed the ladder with their U16, U18, U20, and even made his SHL debut as a mere sixteen-year-old. It's very impressive and that alone makes Fehervary a "One to Watch" player for Slovakia at this year's World Juniors.
This 2017-18 season has saw Fehervary as an eighteen-year-old play with the men full time with IK Oskarshamn of the Allsvenskan, which has served as the next step in his development to becoming a top-flight defenseman. It's not going to be much of a surprise to anyone when Martin hears his name called at some point during the 2018 NHL Entry Draft. He's a legitimate NHL prospect, and he wants to show at this year's World Juniors in North America that he can play against the best junior players in the world and show that he can shut down the top players.
Slovakia opens their tournament on December 27th vs Canada. They also have the United States, Finland, and Denmark to compete with in a closely contested Group A.
EuroHockey.com asked Martin Fehervary some questions.
How did you get into hockey and at what age?
My father is a really big fan of all sports, especially hockey. I have one older brother and he played hockey too, so when I was young I was at the hockey arena almost every day to watch my brother play and I liked it a lot. My father took me to the hockey club when I was four years old to start playing.
How was it growing up in the Slovak hockey system in Bratislava?
I started playing as a kid for the HC Slovan Bratislava club, and then I went with a group of guys from my club and we played together in the Czech Republic for the SHK Hodonin club. When I came back to Slovakia for the U18 level, I played for the team Svišť Bratislava. On that team, I played with guys like Adam Ružička, Filip Krivošík, and Jakub Lacka.
Describe your playing style.
My playing style is two-ways. I always want to be 100% sure on defense, but I really like to join the offense too.
How are you enjoying your time playing in the Allsvenskan with Oskarshamn?
I came to Oskarshamn just before the season started. I think that I have adapted really well to playing in Sweden. We have great team and there's a lot of young guys there like me. I know we're only at the halfway point of the year, but I hope we'll make some big noise at the end of the season.
What was it like playing in the Malmo Redhawks system for a few years and making your SHL debut with them?
In Malmo, I spent three great years. I had great coaches and met wonderful people. It was a really great experience playing in the SHL as a 16-year-old.
Are you excited by the chance of representing your country at the World Juniors again this year?
Of course, I'm always so happy representing my country and being with my friends from Slovakia, especially at the World Juniors. Last year when we played in Canada in Toronto and Montreal it was so unbelievable too. I think everyone at the tournament always wants to win and it's same for our team too.
What are some of the goals you and your team hope to achieve at the tournament?
We will see what happens, but I hope we're going to achieve something big! We're looking at every game the same and we want to win.
Do you see this as a big opportunity for NHL scouts to notice you for the upcoming 2018 NHL draft?
I'm not really thinking about it. All I can do is prepare for every game as best as I can and play my best hockey. I think if we're going to play well as a team then the scouts will see it too. But like I said, I want to focus on the game and my team, and not about scouts.
How do you see the national team moving forward? Are their many good young players in the country that are going to make a difference going forward?
I hope that Slovak hockey will move forward. I think we have some good players. In Slovakia, ice hockey has always been very popular so all what I always want is the best for hockey in my country.
FAVOURITES:
NHL Team: None, Just A Fan
Childhood Idol: Lubomir Visnovsky
Video Game: Call of Duty
Movie: Harry Potter
TV Show: Two And A Half Men
Pump Up Song: Can't Be Touched – Roy Jones
Home-Cooked Meal: Pasta Bolognese
Activity Away From The Rink: Spending Time With Friends

Czech Rep.: Tipsport extraliga | 1.liga | 2.liga

Slovakia: Tipsport Extraliga | 1.liga

Sweden: SHL | HockeyAllsvenskan
Other: EBEL | Belarus | Croatia | Denmark | Estonia | France | Great Britain | Iceland | Italy | Latvia | Lithuania | MOL-liga | Norway | Poland | Romania | Serbia | Slovenia | Spain | NHL | AHL |
League standings
Game fixtures
League leaders
in a pleasing match the Croatian champions beat a combative Reykjavik Read more»
Home team opens the Continental Cup first round showing no mercy for opponent KHL Zagreb Read more»