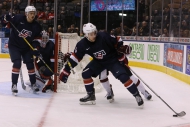 World Junior Preview: History Isn't on USA's Side, But They're Favourites
The Americans have never won in back to back tournaments and have only one medal at home. Can 2018 change that?
The United States have been the topic of worldwide conversation for what seems like a nonstop rotation over the past year. It's easy to look at everything and suggest changes needed to be made, one way or another.
On the ice, though, the team is looking to completely change the script. The country has only had repeat medals twice, but never has been able to win the tournament in back-to-back years like their neighbours north of the border.
The World Juniors have been hosted in the United States just five times, with the Americans only medaling once. That one time, ironically, happened to be in Buffalo, home to the 2018 World Juniors and the best chance for the team to grab their second straight title.
Early indications seem to suggest the Americans will at least earn a medal, but even though they'll be missing many of the key elements from last year's team, that won't likely slow them down. They're a deep team at every position, featuring stars from the CHL and NCAA.
There's enough fans and scouts that believe that the United States have what it takes to celebrate their newly acquired on January 5th on home ice, something they stole from Canada in a year ago.
Offensively, the team has benefited from Logan Brown and Kailer Yamamoto getting sent back to junior after stints in the NHL. Sure, missing Clayton Keller, who's still eligible for the tournament, hurts for sure, but considering he's an early favourite for rookie of the year, it's unlikely he'll be crying in Arizona.
Defensively, USA should have no issue keeping the puck away from the net. The team may not have a lot of players returning to the blue line, but it's a group chock full of hot hands and strong skaters that will also take advantage of the smaller ice better than their European counterparts.
History isn't on the Americans' side, at least statistically. But with the quality of success from the US National Team Development Program over the past few seasons and some impactful returning names, the United States truly look like one of the favourites heading into the 2018 spectacle.
Goaltending: Whether it be Jack Campbell, John Gibson or Tyler Parsons, the Americans have always counted on their goaltending to keep them in contests that would typically be high-scoring affairs. Parsons, in particular, was lights out in two starts against Russia last year, later helping the Americans to a thrilling shootout victory over Canada in the final.
This year, it's time for his two successors to earn their calling this year, and that's Jake Oettinger and Joseph Woll. Both goalies had less than ideal starts in the NCAA, but neither have had exceptional goal support, either. By Thanksgiving, Oettinger was 21 in NCAA save percentage while Woll was even farther down in 50th.
At this point, there's no clear favourite as to who will earn the most starts, so expect both options to split starts during the preliminary round. Woll was good in his two starts for USA last year, including a strong performance against Canada in the New Year's Eve classic.
Oettinger, on the other hand, didn't see any starts for the squad, but as the youngest kid in the crease, that was to be expected. As a first-round draft pick in 2017, however, Oettinger has something to prove and getting the top spot over Woll would be a significant boost in the right direction.
If the team does decide to go with Woll, they'll be getting a 19-year-old Toronto Maple Leafs prospect who stole the show in net at the 2016 Under-18's. If Oettinger gets the call, they'll be one of the best USNTDP goalie products in recent years fresh off of being named to the NCAA's second all-star team in 2017. So while there's no real favourite just yet, can you really go wrong with either option?
Defensemen: With limited returning options this time around, the Americans will be bringing a hungry group with more than enough experience donning the American jersey. Of the tournament sophomores, Adam Fox will be an effective playmaker with a thirst for more ice time after getting used sparingly throughout the 2017 tournament. The all-time NTDP leading scorer for defensemen and the World Junior Summer Showcase points leader is tremendous with the puck and should rack up a fair amount of assists alongside the fast scoring presence the team will be relying on.
Fox's defense partner for much of the summer showcase tournament was Dylan Samberg, a Winnipeg Jets second rounder in 2017. Currently a member of the University of Minnesota-Duluth in the NCAA, Samberg's shutdown nature will be more effective when paired with a more offensive dynamo like Fox.  Samberg isn't a guy you'd expect to see in the NHL anytime soon (playing college hockey doesn't totally help disproving that) but his raw talent and his fluent skating for his size makes him a prototypical defenseman you want patrolling your blueline.
Michigan's Quinn Hughes has had a good enough NCAA campaign to earn himself considerable ice time. An expected top ten pick in the NHL this year, Hughes was nearing a point per game in the NCAA for the first few months, something he teetered around with in the USHL last year with the USNTDP. For USHL defensemen two seasons ahead of their draft eligibility, Hughes is the all-time leader in points under that circumstance. His 26 points in 26 games last season beats out big names such as Charlie McAvoy, Brady Skjei, Noah Hanifin, Seth Jones, Zach Werenski and Jacob Trouba. Hughes comes from an incredible hockey background, with 16-year-old brother Jack expected to go in the first few picks in 2019, while his youngest brother, Luke, could get drafted in 2021.
Nashville Predators third-rounder David Farrance is an interesting case for the Americans. An injury replacement in the summer, Farrance can move the puck better than most others at the tournament. He had nothing to lose when he was added to the team in August but had fantastic results to show for it, earning praise from coaches and scouts a like. He hasn't put up big numbers with Boston University in his rookie season, but Farrance looked good enough over the past few years to know by the end of his time with the team, he'll be a force at the college level before eventually turning pro.
And let's not forget Charlie Lindgren's brother, Ryan Lindgren. The University of Minnesota sophomore should be able to double his point totals in college this year and while he's not an offensive threat, he's going to keep the puck away from the net. Just one of two returning players on the blue line, Lindgren will hopefully be a leader for a team with so much young potential, but with a lot of inexperience at this level. There aren't a whole lot of bad options for the Americans on defense, and with the team on home ice, they'll need to be stellar.
Forwards: Like Canada, there's always more than enough discussion about the players that aren't taking part in the two-week bonanza. But with Brown and Yamamoto coming back into the fray after starting the year in the NHL, there's an added belief that the Americans could have one of the most dangerous lines in the entire tournament. It starts with Brown, a 19-year-old centerman that skated in four games with the Ottawa Senators this year. Easily the top player on the Windsor Spitfires, Brown should finish with a career-high in points despite not starting the season in the league. In fact, he's on pace to outdo his 40-point season from a year ago in five less games. The fact that he put up 12 points for the Americans at the 2016 Under-18's and still wasn't the team's top player shows how good the Americans have been developing prospects in recent years.
Then there's Yamamoto, perhaps one of the most surprising names to make the NHL this season. A speedy forward that produces magic with the puck, Yamamoto had three points in nine games with the Oilers out of training camp before getting sent back to the Spokane Chiefs. Yamamoto finished with seven goals (the most of any player) and 13 points at the Under-18's two seasons ago, an impressive result for a bronze medal squad. Yamamoto may not be a big player, but he has a history of getting himself in trouble in international tournaments in the past and that's likely a big reason he didn't get a shot with the World Junior team last year after a so-so summer showcase.
Of course, we can't forget Buffalo Sabres prospect Casey Mittlestadt, the third member of the dynamite trio from the World Junior Summer Showcase this year. Mittelstadt could stickhandle is way out of a traffic jam and is one of the best players at his age at playing a two-way system. Mittelstadt is off to a great start with the University of Minnesota and unlike his two potential linemates, he hasn't had to adjust to different systems a few weeks into the season.
After USA's top trio, which produced 20 points in the five-game tournament, the team still manages to keep the lines looking spiffy. Last year's team had some star forwards in the top six, but some of the bottom six, which included guys freshly drafted into the NHL, had 18 year olds who couldn't finish the job. An extra year of development has proven huge for Patrick Harper. Harper only has a single point a year ago, but the Nashville Predators prospect finished third in WJCSS scoring with seven points and has lead Boston University all year long. Same goes for Joey Anderson, who, despite being a solid defensive forward last year, didn't add much offensively to the squad. An injury early in the season took him out of action to start the season, but his game has quickly picked up and his stock has improved.
The Montreal Canadiens may be a team destined for failure this year, but Ryan Poehling is a kid with incredible potential for the future. The St. Cloud State University center has developed into an important player for his school, beating out his previous season total before December began. While he isn't a fast skater, Poehling is tough to knock off the puck and he's got the ability to be put in pretty much any situation thanks to his tremendous work ethic.
Two other names worth watching are Kieffer Bellows and Max Jones. Bellows made the transition to the WHL after a so-so rookie campaign with Boston University and is on pace for around 75 points as a 19-year-old. A first-round pick by the New York Islanders, Bellows looked good last year but the team was expecting a bit more out of him. For Jones, the Anaheim prospect hasn't represented USA since the 2014 Under-17's, a tournament where he finished with seven goals to lead the tournament. The London Knights forward doesn't put up incredible offensive numbers, but, as evidence by his 13 goals and one assist in his first 19 games, it's clear he's good at one thing: goals. What wins games? Goals.
Projection: The United States have to win, period. Hockey is on the rise in the country and could surpass Canada sooner than later in participation numbers. WIth a championship on Canadian soil last year, the last they'd want (outside of a relegation round appearance) is to lose to their border buddies on home ice. The battlefield is set for a December 29th outdoor game, a contest that could set the stage to see who wins Group A. Will we see a second battle when the medal round heats up? There's a very good chance, and if you had to bet, USA has enough strong depth at every position to be a true number one contender in Buffalo.
Follow me on Twitter, @StevenEllisNHL.
Current events
External links

Czech Rep.: Tipsport extraliga | 1.liga | 2.liga

Slovakia: Tipsport Extraliga | 1.liga

Sweden: SHL | HockeyAllsvenskan
Other: EBEL | Belarus | Croatia | Denmark | Estonia | France | Great Britain | Iceland | Italy | Latvia | Lithuania | MOL-liga | Norway | Poland | Romania | Serbia | Slovenia | Spain | NHL | AHL |
League standings
Game fixtures
League leaders
After a 4-years hiatus, a Kazakh club could be back in Russian Second League Read more»
In late Spring, 2023, the International Ice Hockey Federation will host the 86th Men's Ice Hockey World Championships. The competition is easily global ice hockey's biggest event, with hundreds of thousands of fans traveling for each world championship finals event. ... Read more»