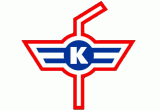 EHC Kloten
Year of foundation: 1934
Colours: white, blue, red
Club status: active
Address: Waldeggweg 2
CH-8302 Kloten
Phone: +41 44 800 10 10
Fax: +41 44 800 10 11
WWW: EHC Kloten
Did you find any incorrect or incomplete information? Please, let us know.
Season 2023-2024
Current roster
season 2023-2024
* no longer in the club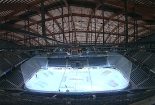 Adress: Zentrum Schluefweg
Schluefweg 10
CH-8302 Kloten
Phone: +41 44 804 85 32
Capacity: 7624
Opened in: 1997
Retired numbers:
4 Marco Klöti
7 Peter Schlagenhauf
20 Reto Pavoni
21 Roman Wäger
22 Victor Stancescu
24 Felix Hollenstein
26 Mikael Johansson
32 Anders Eldebrink
Notable players:
from 1934 to 2000: EHC Kloten
from 2000 to 2016: Kloten Flyers
from 2016 to present: EHC Kloten
from 1934 to 2000: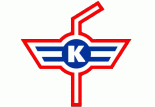 from 2000 to 2009: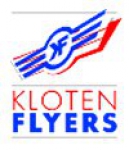 from 2009 to 2012: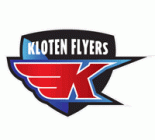 from 2012 to present: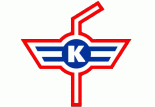 Kloten Flyers owners already on the jump
As the "Avenir Sports Entertainment" (ASE) communicated in the night of Friday to Saturday, the Canadians have decided to pull out of the ownership as they feel that only a Kloten based ownership can bring back success to the longest serving NLA team. As mentioned in the statement "It has become clear that having outside ownership, such as ASE, is not the proper structure for success in Kloten". ASE has begun searching for a new owner and will take over the responsibilties as the current owner for the time being until a new owner is found.
The Kloten Flyers are expected to generate a loss of 7 to 8 million Swiss Francs this past season after reaching the playoffs for the first time in two years and loosing to HC Davos 0-4 in the quarterfinal series.
You can find the complete statement here
(12 Mar 2016)
Swiss goalie injured
The 22-year-old keeper of Kloten Flyers, Luca Boltshauser, was injured on Friday during the preseason game against Schwenninger Wild Wings. His shoulder needs surgery. He will be out of play for 4 to 5 months.
(24 Aug 2015)
Klotens Luca Boltshauser out 4-5 months
According to the Kloten Flyers, newly acquired goalie, Luca Boltshauser, injured his shoulder and will be out after surgery for 4-5 months. He injured himself in a friendly game at home against the Schwenninger Wild Wings.
(24 Aug 2015)
Marcel Jenni won't play for the Kloten Flyers this season
Both Jenni, who turned 41 years old this year as well as the Flyers Management decided not to extend his contract for the coming season. Jenni who had been a member of the Flyers since the 2005-2006 season had previously won championship titles with HC Lugano of the Swiss National League A as well as Färjestads BK of the Swedish Hockey League. It remains unkown if he will continue his career elswewhere. In 658 NLA games he produced 461 points, in 224 SHL games 126 points. The Kloten Flyers will bid Jenni good bye at a home game this coming October.
(10 Aug 2015)
Jim Vandermeer suspended 6 games
The disciplinary committee of Swiss Ice Hockey Federation ruled a six-game suspension for Kloten Flyers defender Jim Vandermeer for the charge against the head of Mathieu Tschantré during the match of December 22, 2014 between HC Biel and Kloten. In addition, a fine of CHF 1,500 was imposed on the Canadian defender.
(03 Jan 2015)
Sean Simpson takes over as new coach of Kloten Flyers
As communicated in a press release by the Flyers organisation, Felix Hollenstein and assistant Kimmo Rintanen (Fin) have been releaved of their positions and replaced by Sean Simpson and his long time assistant Colin Muller. Both signed long year contracts. In addition, Simpson will take over the position of the Team Manager while André Rötheli who had the position will move to the Elite A Junior Team as Head Coach after Marco Bayer ends his stint at the end of the season. The mediocre results from the start of the season have haunted the coaching duo since and speculations had been ongoing in the last few weeks.
(19 Dec 2014)
Switzerland replaces Furrer
Switzerland coach waited until the last second before to announce the replacement for injured Philippe Furrer: it's Kloten Flyers defender Patrick von Gunten, who will play his second Olympics
(09 Feb 2014)
Servette and Vitkovice add players for Spengler
Geneve Servette announces the addition of goalie Robert Mayer (Hamilton Bulldogs), Finnish defenceman Markus Nordlund and forward Inti Pestoni - both from Ambrì-Piotta - for the upcoming Spengler Cup. Also, Czech club Vitkovice will have a Swiss player for the tournament, Kloten Flyers' defenceman Gian-Andrea Randegger.
(20 Dec 2013)
Kloten Flyers change their head coach
Swiss NLA club Kloten Flyers today fired their head coach Tomas Tamfal after the 2-4 derby loss against the ZSC Lions a day earlier. His substitute is already known - Kloten legend Felix Hollenstein. The change comes only four days after a huge 12-0 win against Rapperswil. Kloten has only two points more than 9th placed EHC Biel and Hollenstein has the task to make the playoffs with the team.
(20 Feb 2013)
Stancescu suspended six games
The Disciplinary Court Judge Reto Steinmann suspended for six games Kloten Flyers forward Victor Stancescu for his check against Ambri_piotta John Gobbi in the championship game on January 19. A fine of 2,000 swiss francs has also been imposed.
(25 Jan 2013)
Historic rosters:
Historic statistics:
Past results:
League standings:
Fast facts
season 2023-2024
Kaunas City celebrate the qualification to the second round of Continental Cup with a ten-goals victory over Skautafelag Rejkyavik Read more»
Estonian champion wins KHL Zagreb ensuring first place for the home team Read more»